Supportdesk
Supportdesk is a game changer in turning sales and support teams from daily lagging behind answering e-mails to delivering awesome customer service. It provides great visibility and central control in dealing with pre-sales and after-sales customer questions to ensure sales opportunities do not slip through the cracks.
Backend ticket grid for store admins to view, answer and create tickets
Ticket form on product pages where product info is added to the form automatically
Customers view, submit and respond to tickets directly from the customer dashboard
€ 99,00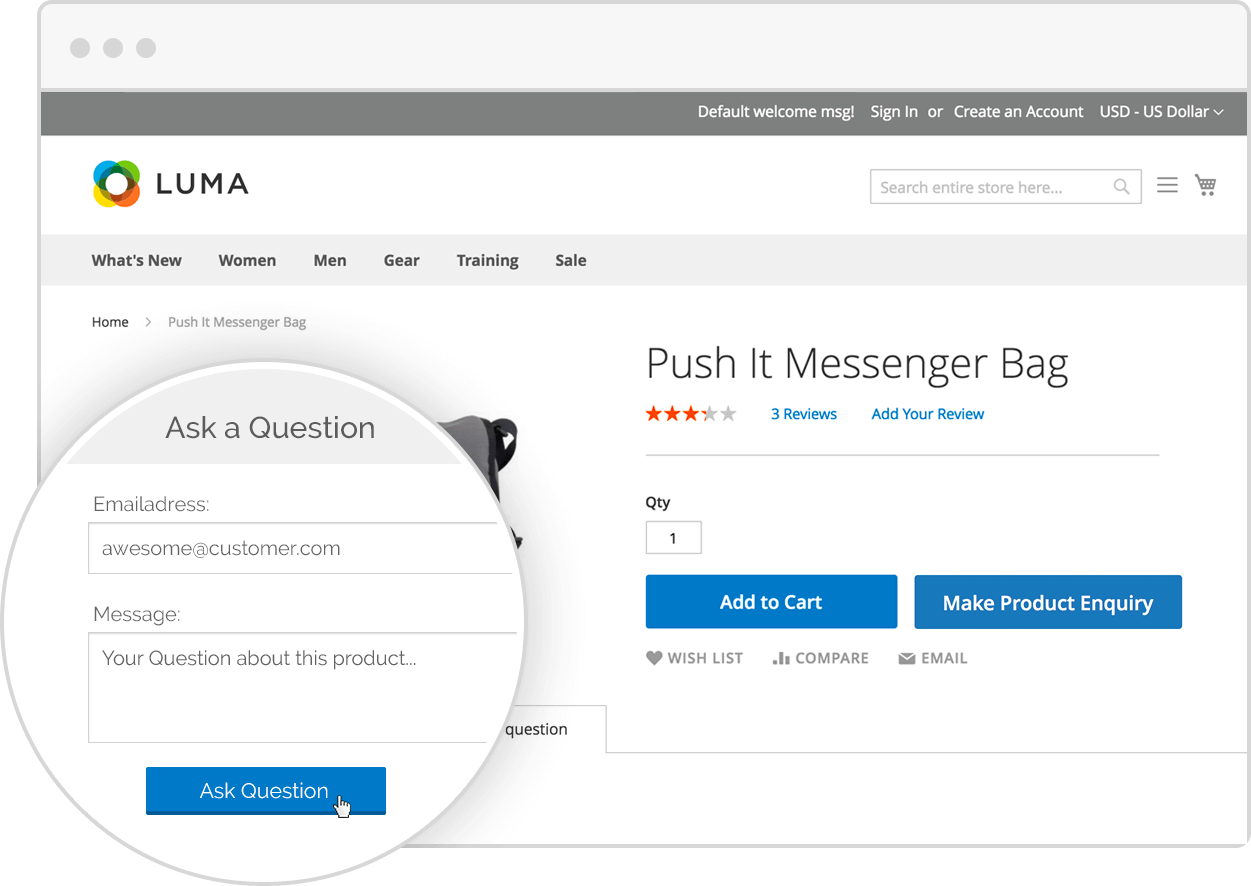 Ask Questions Directly from Product Page
The product page provides the possibility to ask questions about the product. The process of requesting information on a product is accessible and straightforward. Logged in Customers will experience an even more user-friendly process of submitting questions since Magento is familiar with the customers' details.
Integration with Magento's Contact Form
The Contact Form of Magento is fully integrated with Supportdesk. This integration serves as an enhancement. It allows the customer to send a message to the admin panel directly. Moreover, it lets the customers enter their details efficiently into The Supportdesk Ticket System. Asking product based questions was never this easy!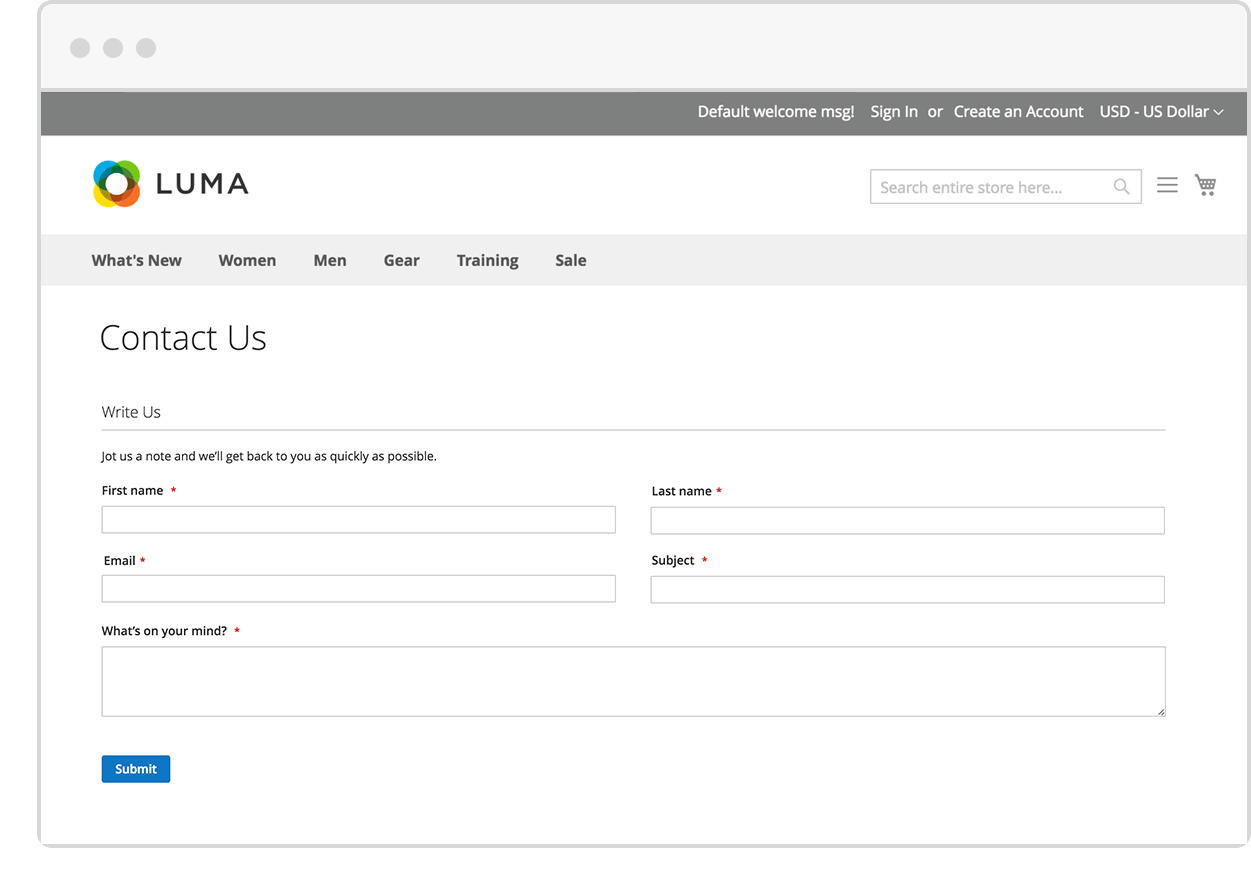 Customer Dashboard Ticket Grid
In the Customer Ticket Grid, everything is sorted out appropriately with all corresponding essentials. These essentials include the possibilities for the customer to view all the tickets, create new tickets and revisit old tickets. The grid contains information about the ticket details, the date of submission, product details and the identity of the customer. A sufficient method to organize and edit all tickets.
Customer Dashboard Ticket Thread
The Customer Ticket Thread gives a clean view of a single conversation. The messages are placed in a well-arranged structure that contains the possibility to add more questions. The conversations between the customer and the admin on a ticket are listed with the newest threads and followed by the oldest ones towards the end. The thread facilitates quick personal contact between the admin and the customer.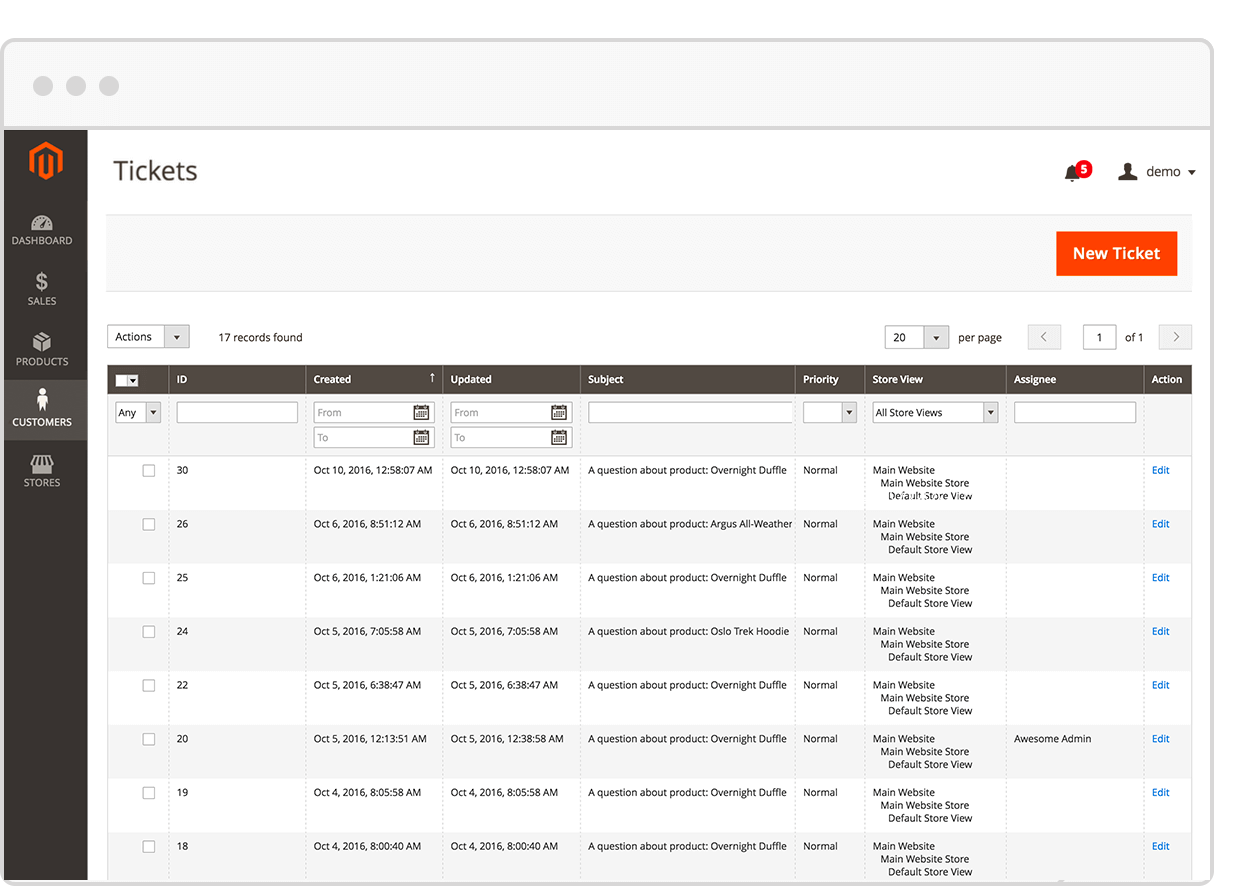 Backend Admin Panel Ticket Grid
In the backend of the admin panel ticket grid, the administrator can adjust every ticket independently. This flexibility results in a pleasant usability by the user. The admin can select a different coworker to the ticket in the ticket grid, because the administrator might want to inform or consult others. The administrator can do this through internal notes. The ticket Grid provides an overview of tickets by customer name, status, subject, and priority.
Status Management
In the backend, there is the possibility to enter and change the ticket status. You can customize the status from open to pending and solved. The respond times between the administrator and the user will be more efficient when you manage statuses correctly. It will ultimately result in an efficient exchange of information.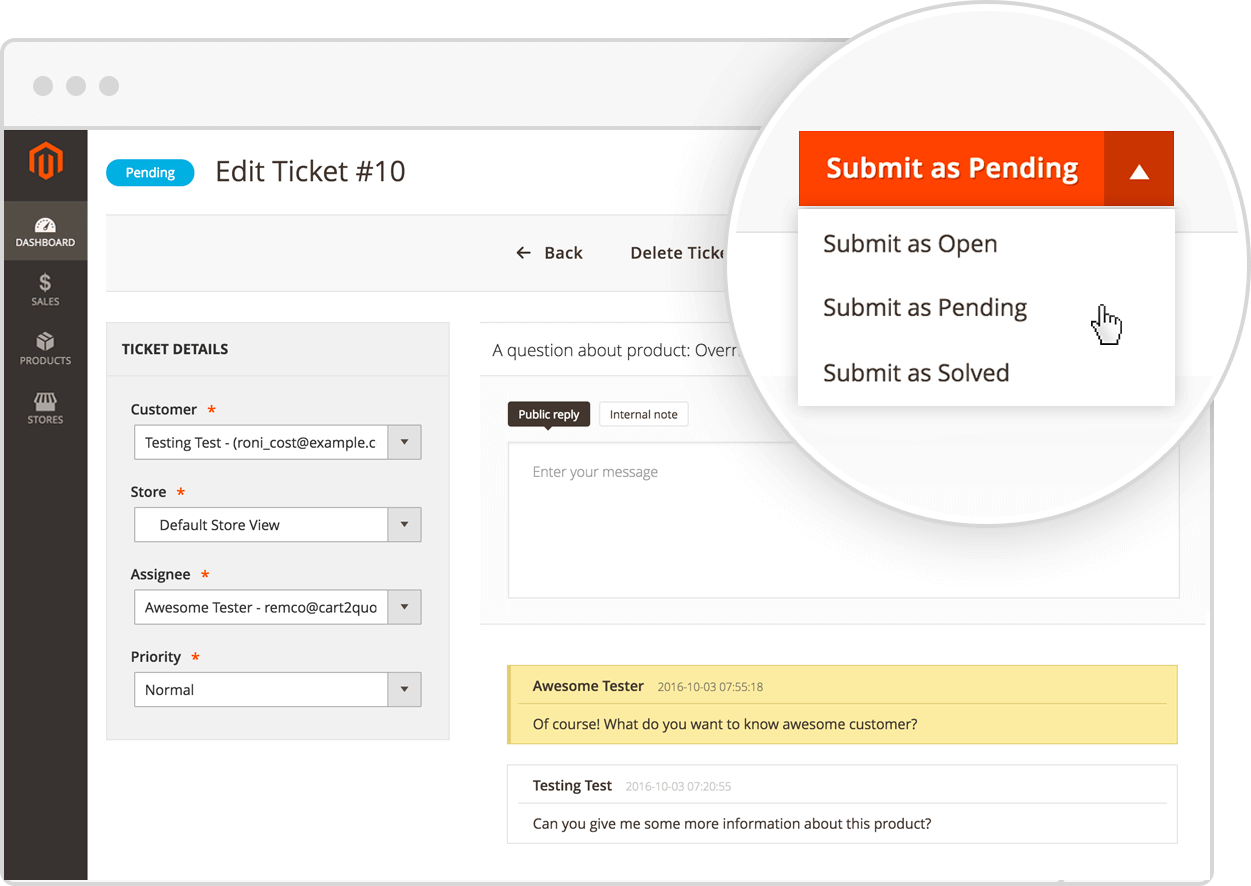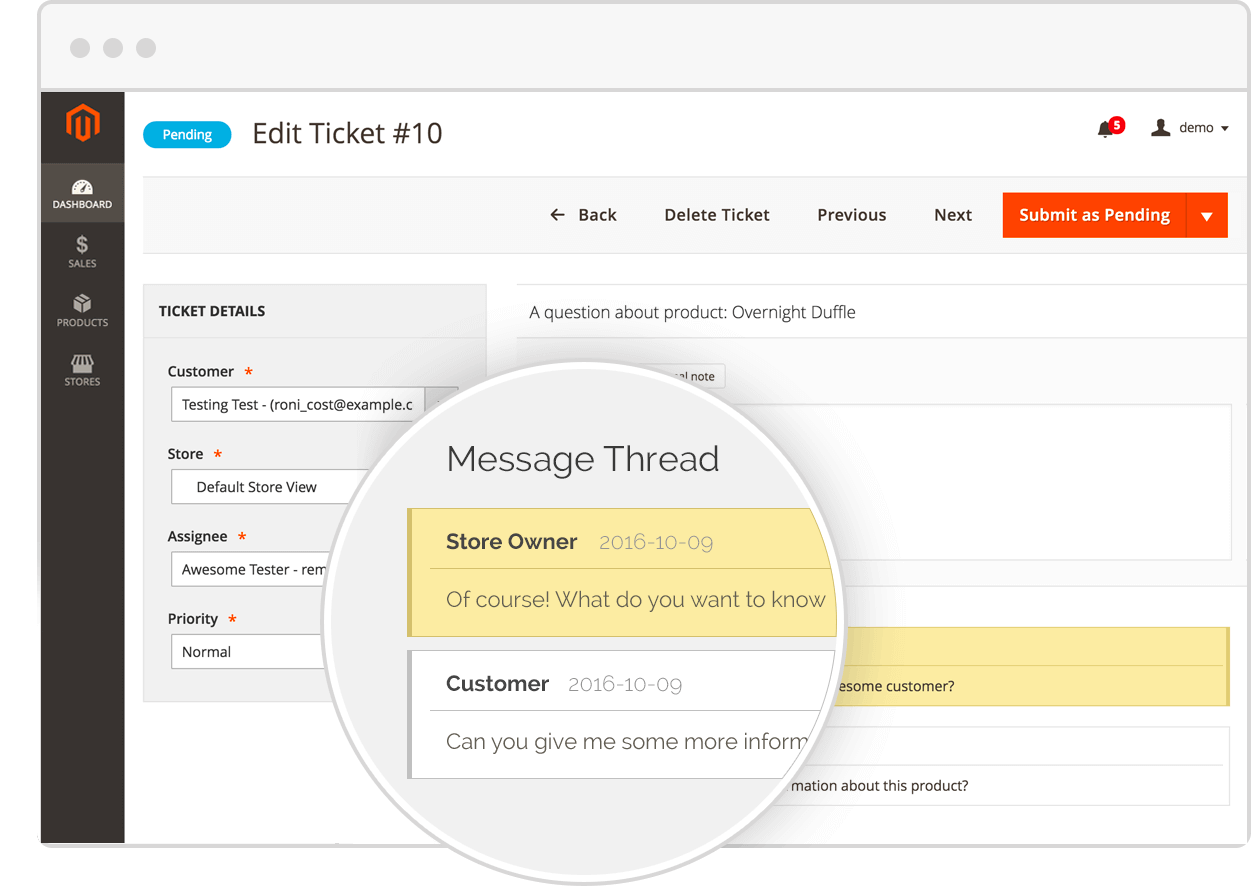 Admin Dashboard Ticket Thread
In this thread, the exchange between the tickets of the customer and the admin are shown. The store admin can adjust them accordingly. Customer Questions can be sorted by different priorities. One ticket may have a low priority and another one an urgent priority. The main purpose of the Supportdesk is to deliver messages from the store owner(s) to the client and the other way around.
Configure Visibility of Support desk
The support Desk configuration page has general and default settings. In the general settings, the Customer Supportdesks can be enabled or disabled. In the default settings the visibility of the product page can be changed. Thereby the priority states can be modified.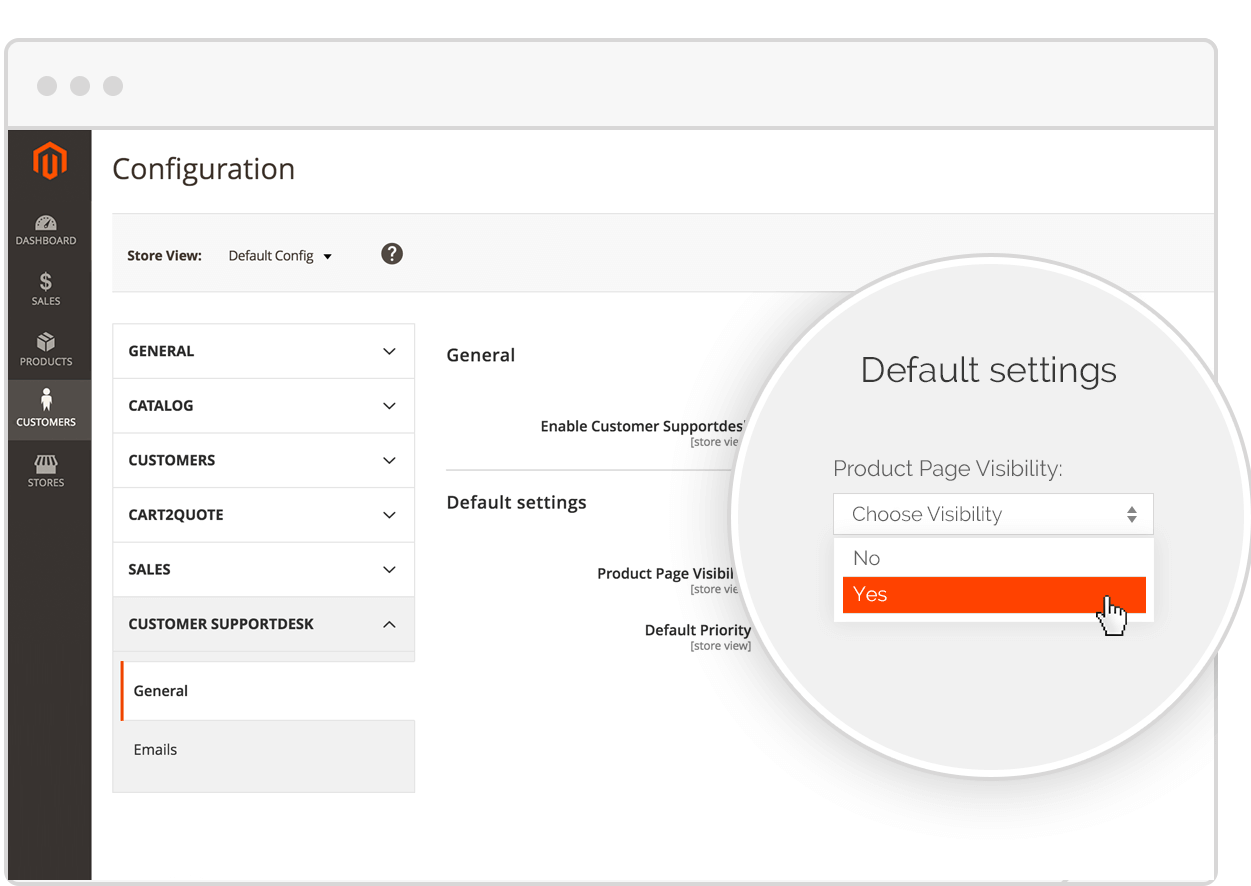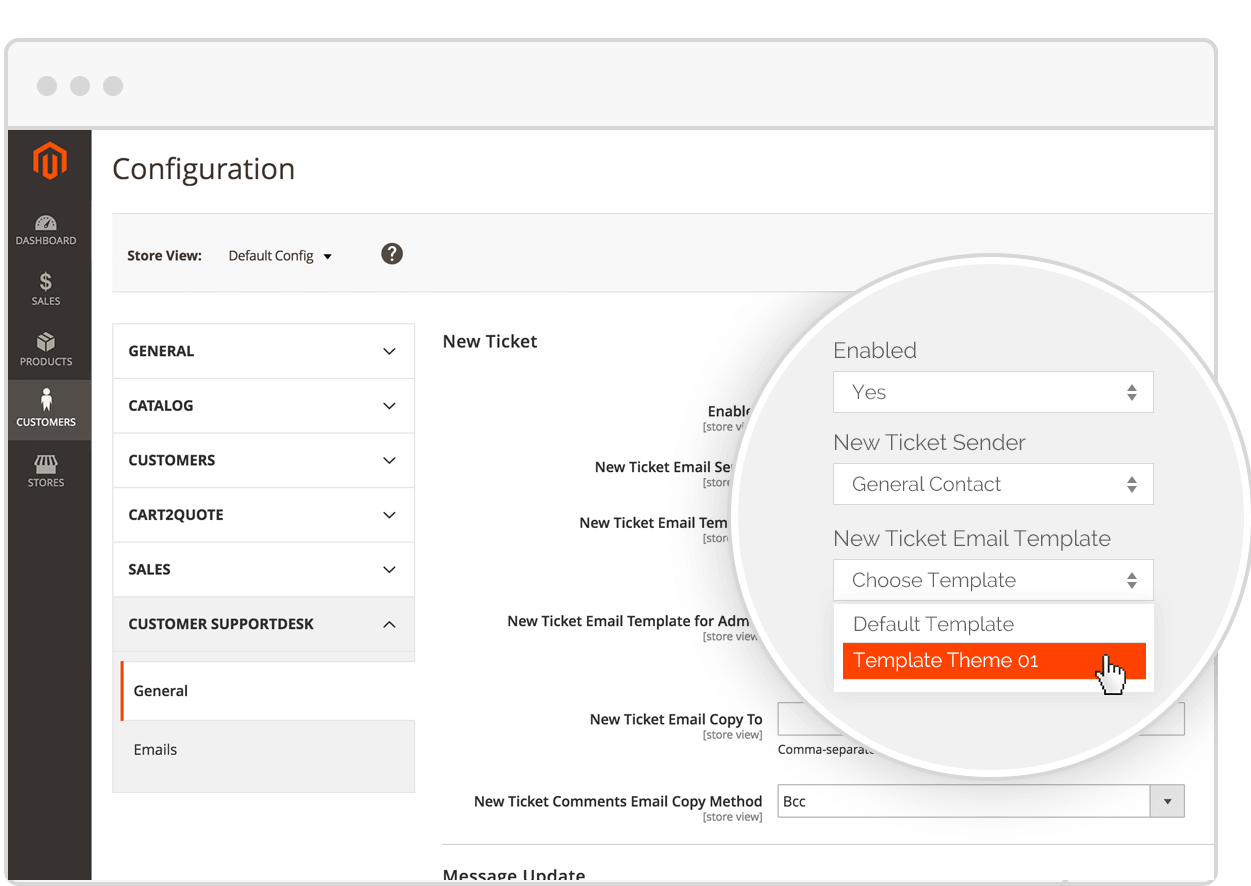 Manage E-mail Templates and Messages
In the configuration settings, the admin can revise and manage E-mail templates. The emails are customizable, and the email is automatically generated by Supportdesk. E-mail templates can be easily managed and modified by using the default Magento, e-mail template manager.
Frequently Asked Questions
Your question not listed below? Please contact us if you have any further enquiries.
Licence
It is strongly recommended to let the module be installed by a technical implementer if you do not have the necessary knowledge of Magento modules installations. Visit our documentation center and download our InstallationGuide to see what's involved.
You can quickly and easily renew your license at € 200 off the normal pricing within one year of your original license expiration date. More information.
Nope, if your license expires your extension will still work, however you will no longer have access to updates and support and can no longer request extra development domains.
Yes. Cart2Quote Licenses are permanent and will never expire. There is no annual fee. Your License key is tied to your Magento backend URL. View our Cart2Quote licensing information page, for more information.
Yes, the source code of Cart2Quote is not encrypted and does not require the installation of decryption software on your server.
However, Cart2Quote contains a few obfuscated files which contain our license and edition logic. The obfuscating of these files makes it possible to protect our software and at the same time allow our customers to upgrade editions without installing new software or changing code.
If you require a version of Cart2Quote without any obfuscation, you can opt for the Enterprise edition and select the development version. The development version option is only available when ordering the one-off priced software.
Please note: It is not allowed to resell any part of the Cart2Quote software without ordering a license for every Magento installation or server that uses Cart2Quote.
An original equipment manufacturer, or OEM, manufactures products or components that are purchased by another company and retailed under that purchasing company's brand name. OEM refers to the company that originally manufactured the product.
The Cart2Quote OEM product is developed for companies that have included Cart2Quote's (functionality) in their product. Selling it white label to their customers in the form of, i.e., a Magento template that can be purchased via their website or a diversity of marketplaces.
The minimum expected sales quantity is 10 license per year. We do have other alternatives available for companies not expecting this sales volume. (See Partners)
We're so confident you will love our products, we offer a 30 day, money back guarantee if the extension fails to work and we are unable to fix it. If you required an installation and/or custom work, we will deduct this amount from your refund. Learn more about our refund policy.
Subscription
Any subscription plan renews automatically. If you don't want to be billed, cancel your subscription until the expiration date otherwise the system will bill your card or Paypal account automatically.
There are both monthly and annual types available on Cart2Quote. You are free to select the type you wish. If you want to pay month by month you have to select one of the monthly plans because for annual plans you need to pay upfront.
You can change your current plan and upgrade at any time to any plan you prefer. For more details and instructions
Yes, our plans can be cancelled on a month by month basis when this option is selected or on a yearly basis when billed annually. Contact us when you want to cancel your subscription.
No, the exact same software will be delivered to you. Both versions are self-hosted. However if you require the open source version of Cart2Quote, you will have to select the one-off pricing as this version is not available as a subscription service.
Update & Upgrade
If you are using the free version and decide to upgrade and enable more features of Cart2Quote, you do not have to reinstall the module. Just enter a license key into the backend. The same is true for other upgrades from one version to another. Visit the upgrade page for more information.
Depending on the Cart2Quote edition you purchased you have received a certain amount of months of free updates. View the comparison table above to see the applicable period of free updates for your edition.
If your trial ends before you purchased a paid product, Cart2Quote will degrade to the free version. Your data will remain intact, and your customers can still submit new requests, and you can continue processing new price requests via the admin panel. Only the paid features will stop working.
Compatibility
Cart2Quote will be out-of-the-box compatible for Magento themes based on the RWD and base themes. For all other themes some adjustments may be needed to make it fully compatible. For more information on installing Cart2Quote, please read through our documentation. If you would need help to make Cart2Quote compatible with your theme, we suggest you purchase a Theme Integration.
Yes, we can, and we would be happy to. We love to make Cart2Quote a perfect fit for your business. We have multiple user cases of customizations and testimonials of happy customers that trusted us to customize their Magento web shop. Visit our Magento customizations page for more information.
Cart2Quote currently runs on more than 6000 different store configurations and limiting possible module conflicts is important to us.
However, the most common compatibility issues at the moment are modules relating to SMTP modifications and Ajax extensions.
For a more store specific analysis of possible module conflicts, you can send us a list of installed modules. Please copy this list of installed modules in your store from
System>Configuration>Advanced>Advanced
Payment
When you purchase an extension with a one-off price, you can use it perpetually. Your license also comes with a free update subscription and Cart2Quote support for a limited period. After the free update subscription period, you can choose to extend the update subscription for another year for a discounted price. If you chose not to extend your update cycle, the Cart2Quote software will still function without interruption.
When you subscribe to one of our plans with a month-to-month billing of an annual billing cycle, the software remains activated as long as the subscription is active. If the subscription is canceled the Cart2Quote subscription will be terminated at the end of the current billing cycle and your Paypal account or credit card will not be charged again. No credit is offered for canceling an account prior to the end of a billing cycle.
We accept Visa, Mastercard, and American Express through our online payment system (Paypal). If you would like to prepay with a bank transfer, you can select "Pay with an invoice" or pay with iDeal (Netherlands only). You can select these options during the checkout.
Features
We are dedicated to improving this quotation module every day. Our goal is unchanged: creating a complete Magento quotation module. We release a new version of Cart2Quote about every month. Visit our Release Notes for more information.
Not2Order is our Magento module that works seamless together with Cart2Quote. This module enables you to manage the visibility of order buttons and prices on a product per product basis and/or per customer group. Visit the Not2order product page.
Support
Our Corporate version comes with phone support. All other products come with online support. This helps us keep detailed records about your issue in one place. Nothing is lost in translation between advisors or if we need to escalate an issue to engineers.
We are excited about your interest in becoming a Cart2Quote reseller! Please have a look at our partner/reseller program for more information.
Manuals & Support
In the documentation below is detailed information on how to install and configure the module and how to use the Not2Order module.
Need more help?
Can't find what you're looking for? Save time by starting your support request online and we'll connect you to an expert.