Cart2Quote
Cart2Quote for Magento 2 enables you to create proposals from the backend and front-end. You can edit and submit sales proposals and convert quotations to orders via both the backend and front-end of Magento.
Create Quote from admin panel or front-end
Offer shipping price
More Features continually added
Backend management grid
RFQ via backend
Cart2Quote Easily Integrated
Enjoy complete module functionality immediately after incorporating Cart2Quote into your Magento theme, and use Cart2Quote right away. The templates for the default and RWD Magento themes are included in your purchase of our robust module; Cart2Quote.
Manage whether or not to show the "Add to Quote" button only to certain customers, or to make this globally visible. For example, only make the "Add to Quote" button visible to those who are logged in, or per selected customer group.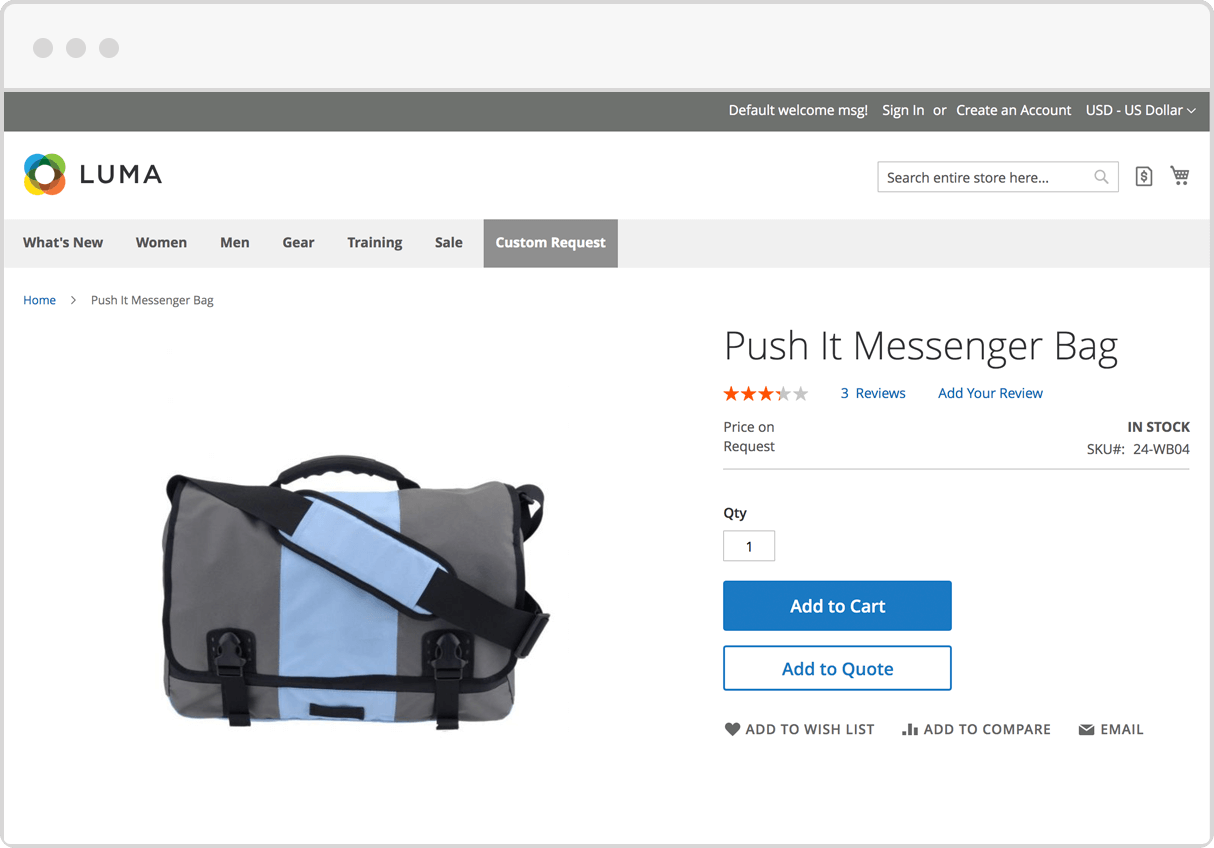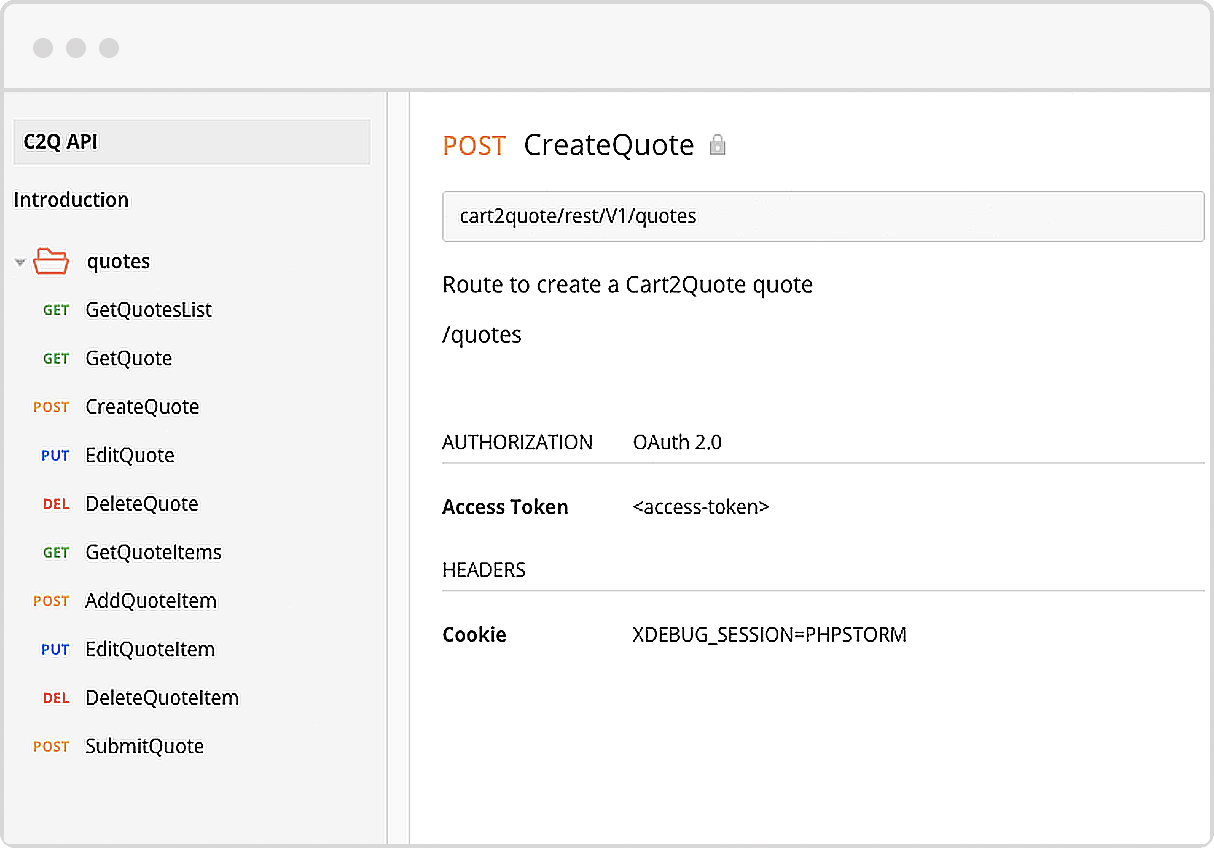 Cart2Quote API Functionality
Create quotations, add quotation items, get a complete quotation list and edit existing quotations using our module's API functionality.
Interested in managing, requesting or editing your quotation remotely? Look no further. Our Cart2Quote Quotation module fulfils all of your requirements.
Expiry dates, emails and PDF's
With Cart2Quote you are offered a powerful sales enhancing and quotation management platform. Customize your proposal, attach PDFs, and send both of these directly to your customer's email address.
Send customers automatic reminders when their price proposals are about to expire. Manage both this expiry period and the reminder period, and configure quote reminder and expired proposal email templates to dispatch automatically. Convert your quotes into sales!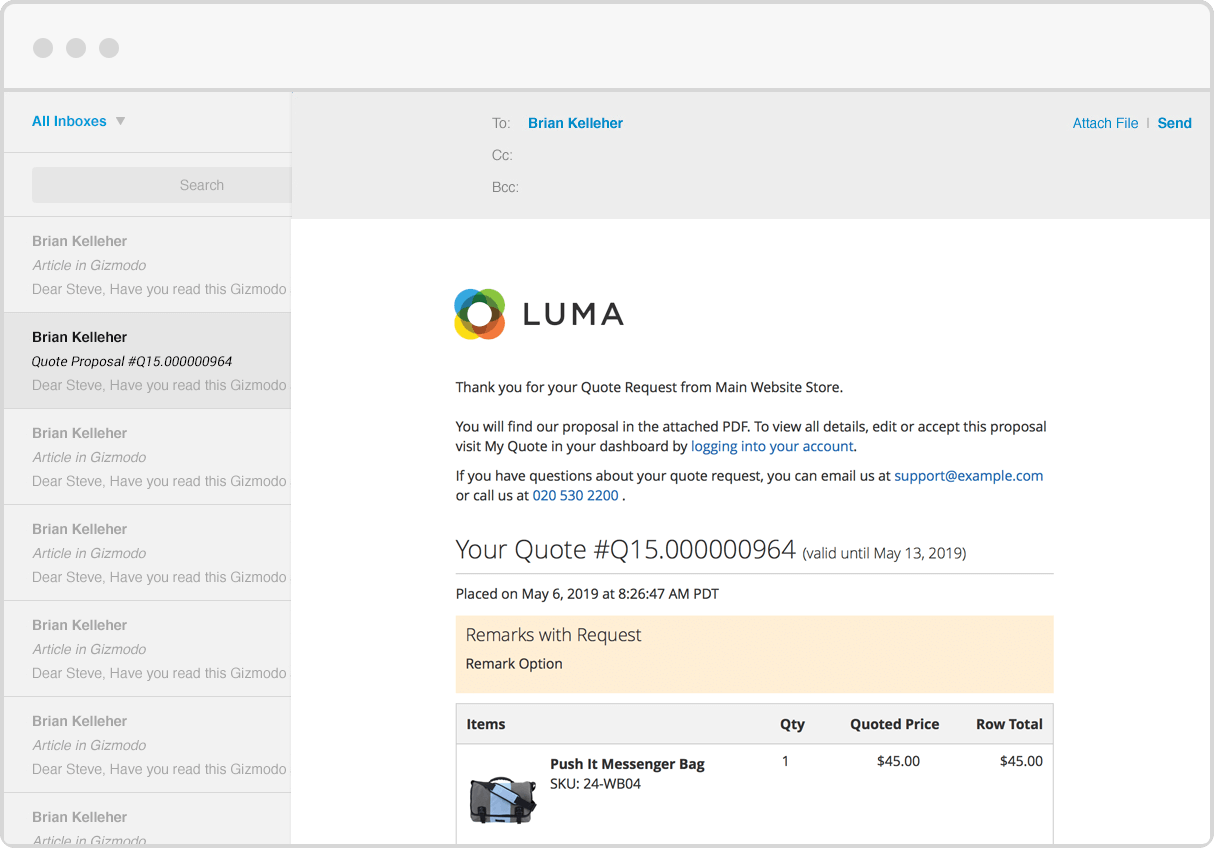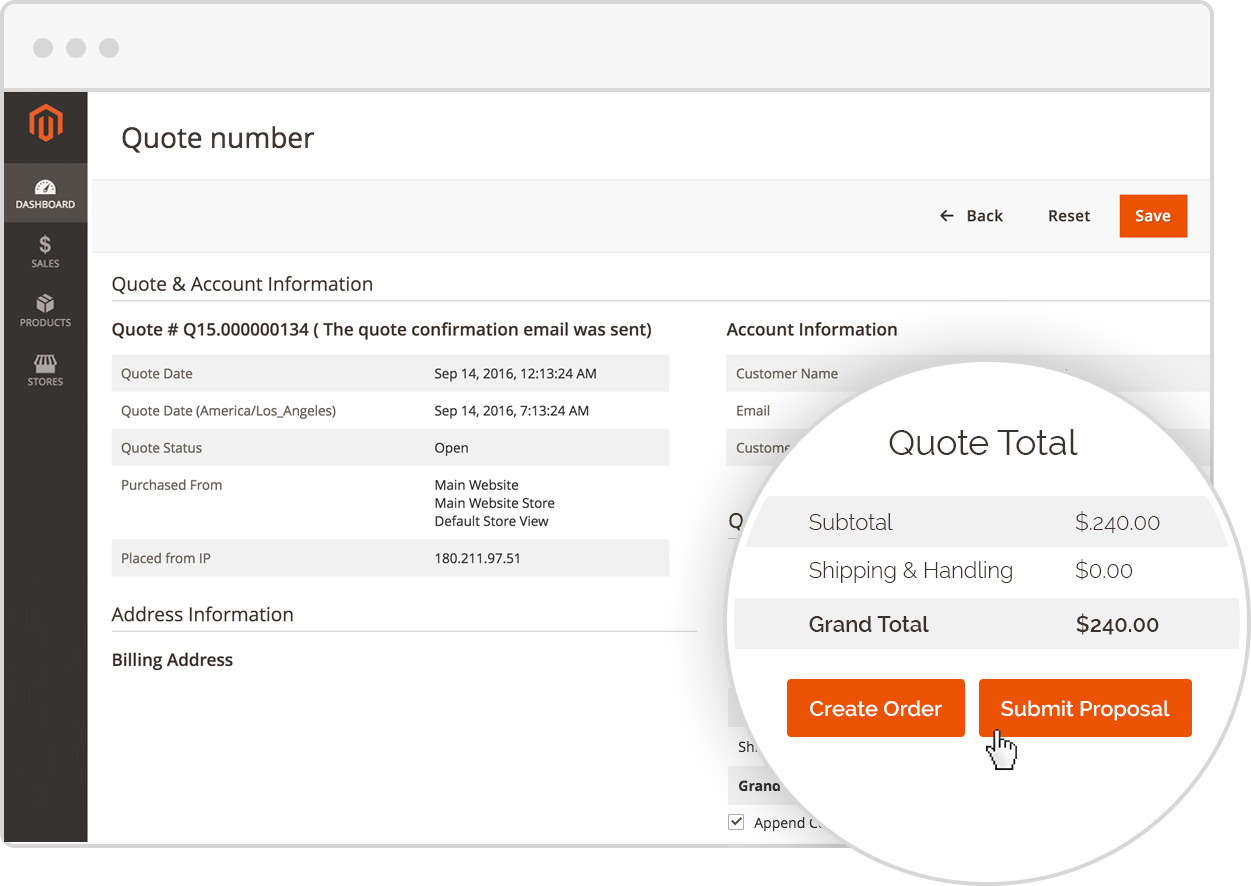 Create proposals with Cart2Quote
Create and manage quotes via the Magento backend. Convert an accepted quote to an order with one mouseclick and process the order using the normal Magento workflow, and assign custom shipping prices to your created quotes.
Create Quote Sections
Add sections to your quote. Represent the items the way you want and create a beautifully organized quote. The quote will display all ordered items within their related subdivision inside the Proposal PDF. The same proposal PDF can be found in both the customer dashboard and the proposal email.
Simply reorder items within a section or move them over to other sections by drag and dropping.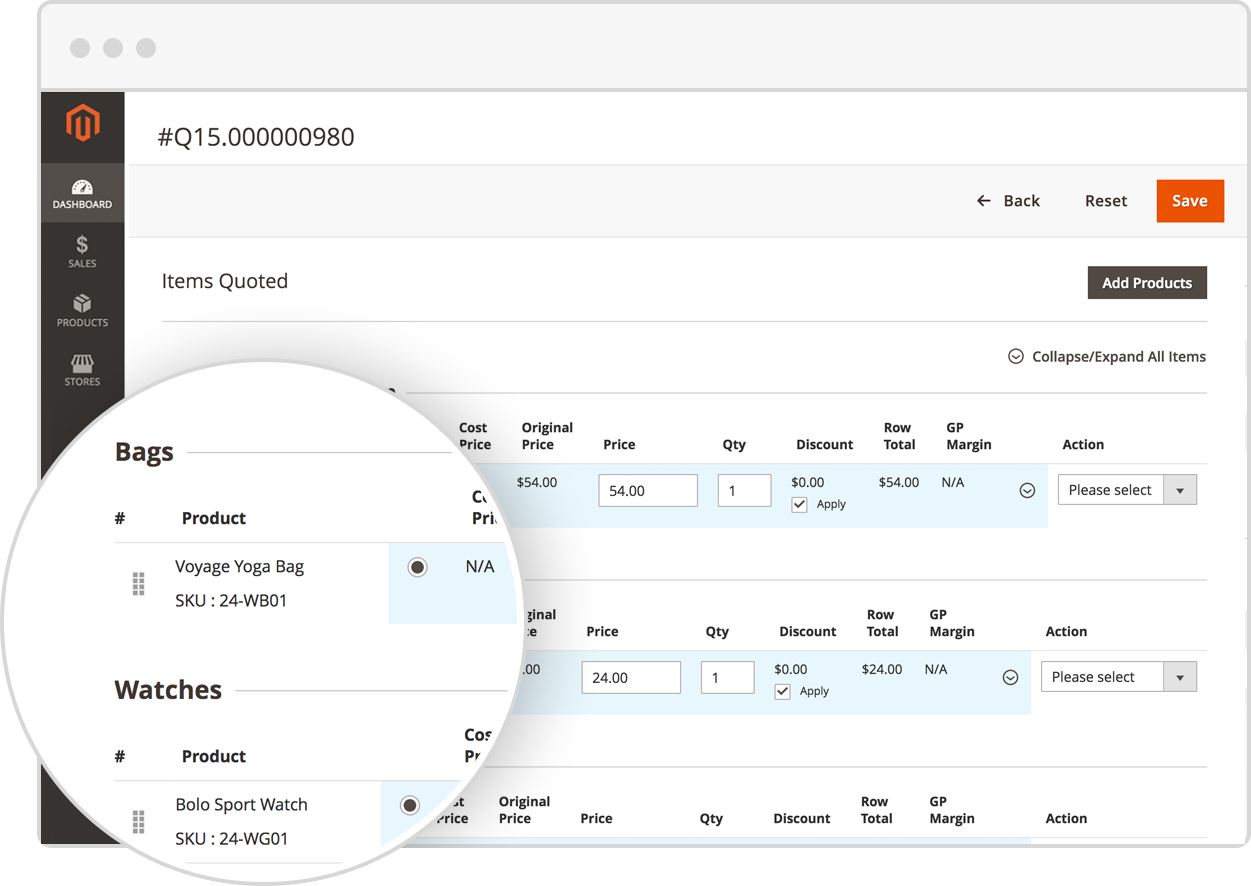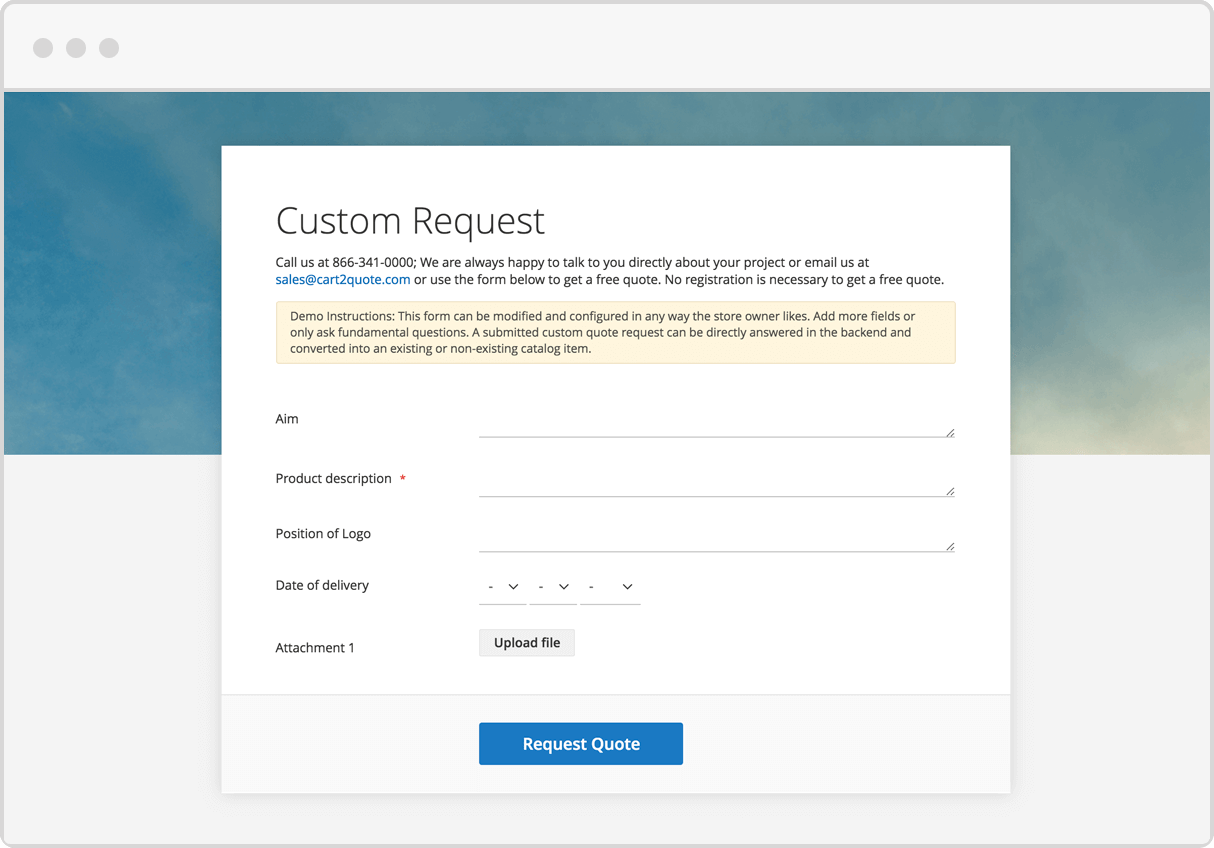 Custom Quote Request Form
Add a custom form to your store for products not in your catalog. The custom quote request form is fully customizable and can contain text fields, dropdowns, checkboxes, date fields and allows for uploading attachments.
Once a custom quote request has been placed, the store-owner can process the request just like a standard proposal, without the need to add a new product to the catalog.
Form builder
Show and configure quote request submission forms and decide what information customers need to enter when placing a request. Require shipping and billing details, or allow customer to request quote as guest.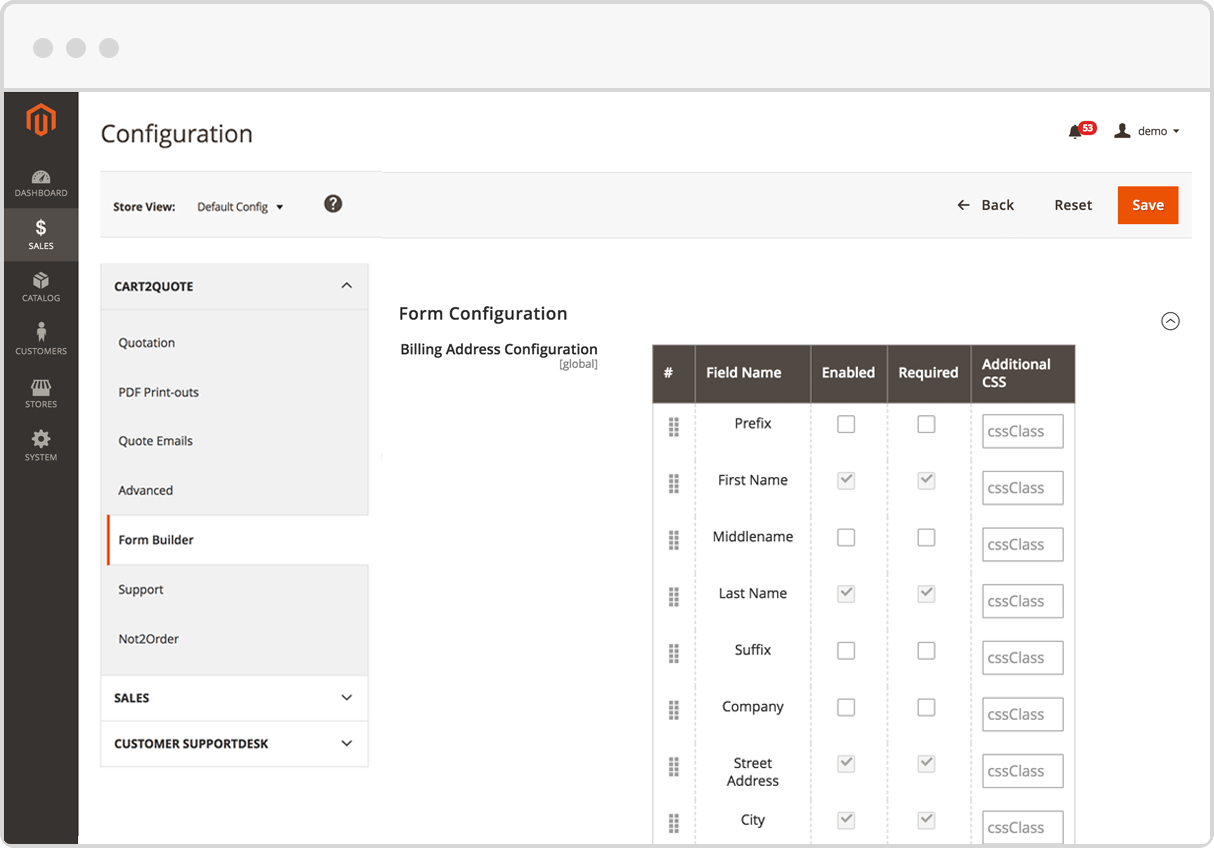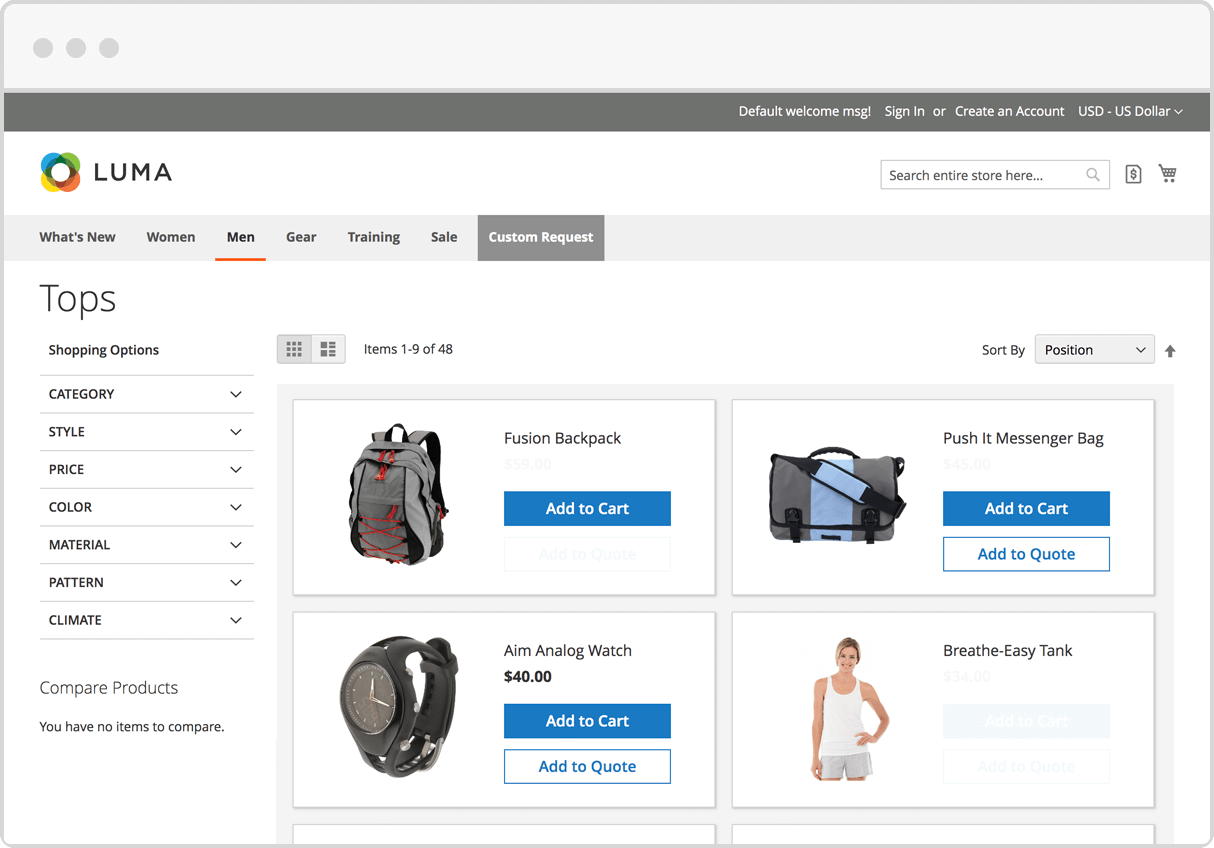 Hiding prices & Disable ordering
Hide the price and disable the order function in your Magento store in collaboration with the complimentary module, Not2Order. Not2Order offers store owners full control of product price visibility in their catalog, the order-ability of specific or grouped products, and the quotation functionality thereof.
Additionally, manage the price visibility and order functionality for registered visitors, or for specific customers groups. Not2Order puts the store admin in control. With Not2Order, all "Add to Cart" buttons and Prices can be set to visible or hidden.
SOAP & REST API support & Multiple events available
Cart2Quote supports both SOAP and REST to link Cart2Quote data to your ERP or CRM system.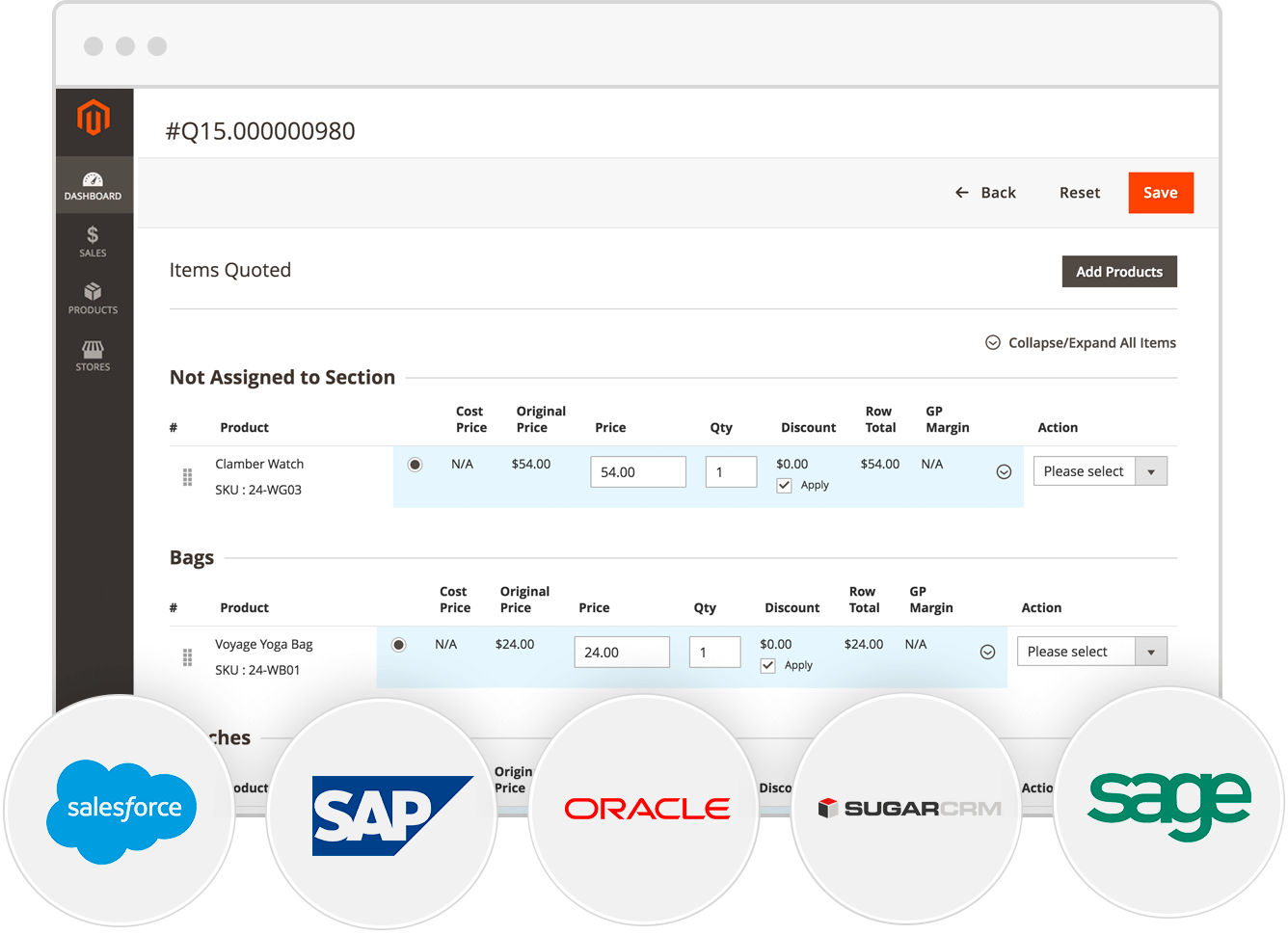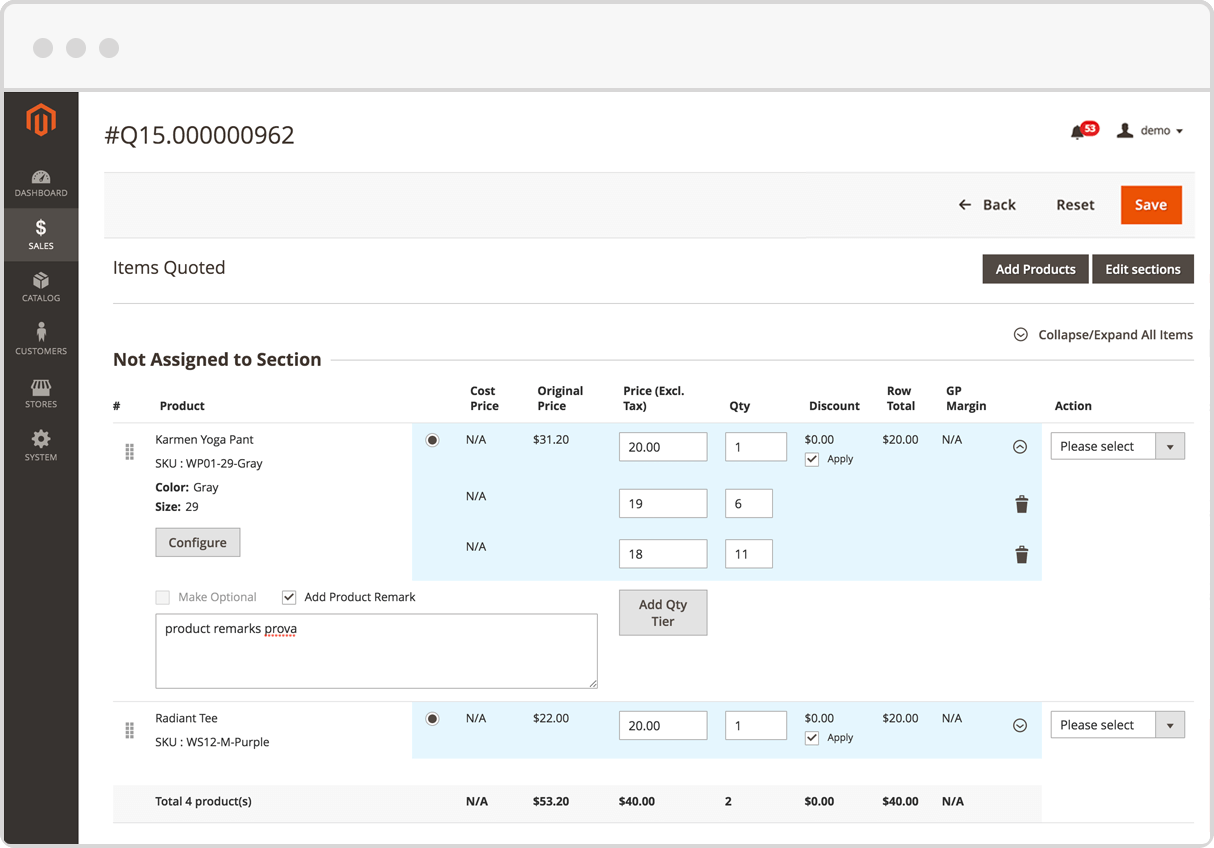 Add custom remarks & Make items optional
Both customers and store owners can add remarks to a request or proposal. Remarks can both be added to the request as a whole, or per line item and are very useful for both customer and store owners who wish to discuss specific products within the quotation request or proposal.
Submission form on quote page (Quick Quote)
The Quick quote feature provides a pop-up form directly on the Magento product page and enables the customer to send a quote request directly from here. This functionality can be configured from within the standard Cart2Quote configurable settings, and will be very useful for store owners who wish to create a quick and easy quotation flow for customers.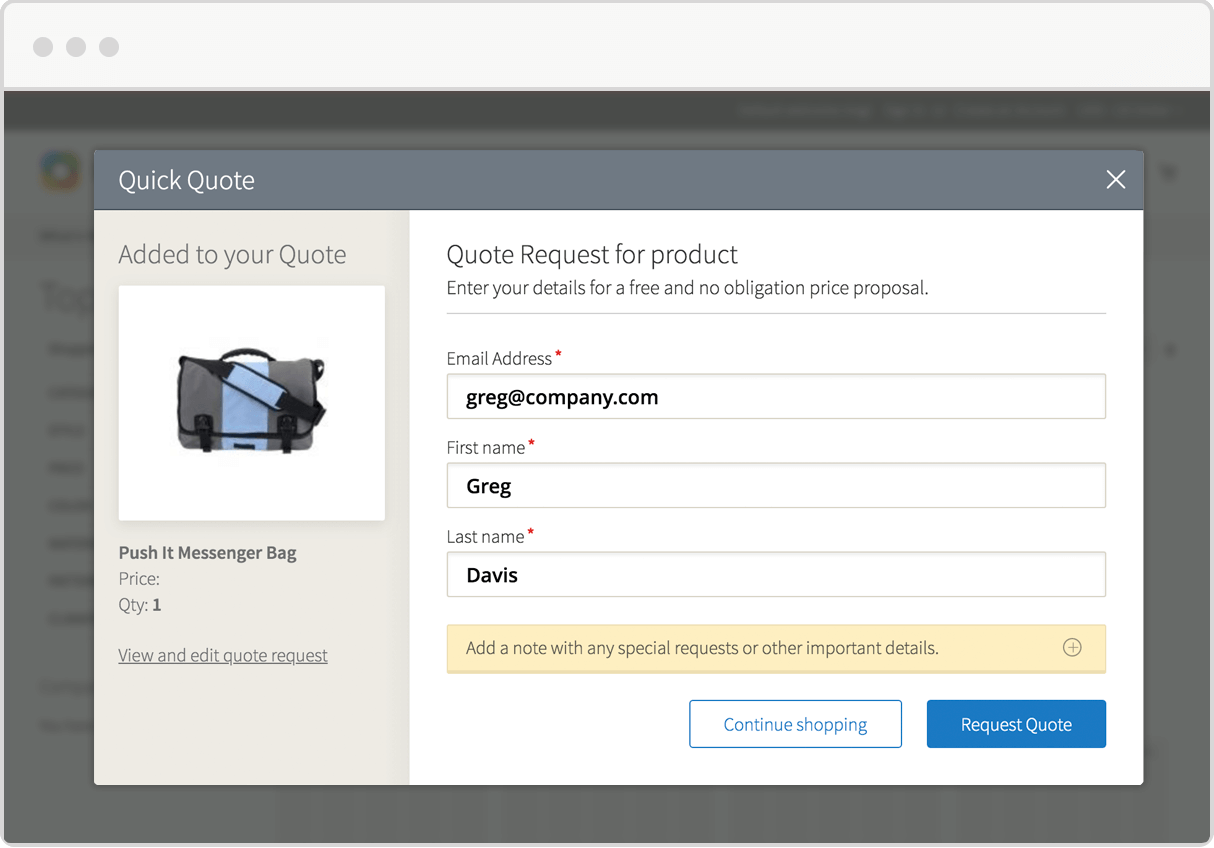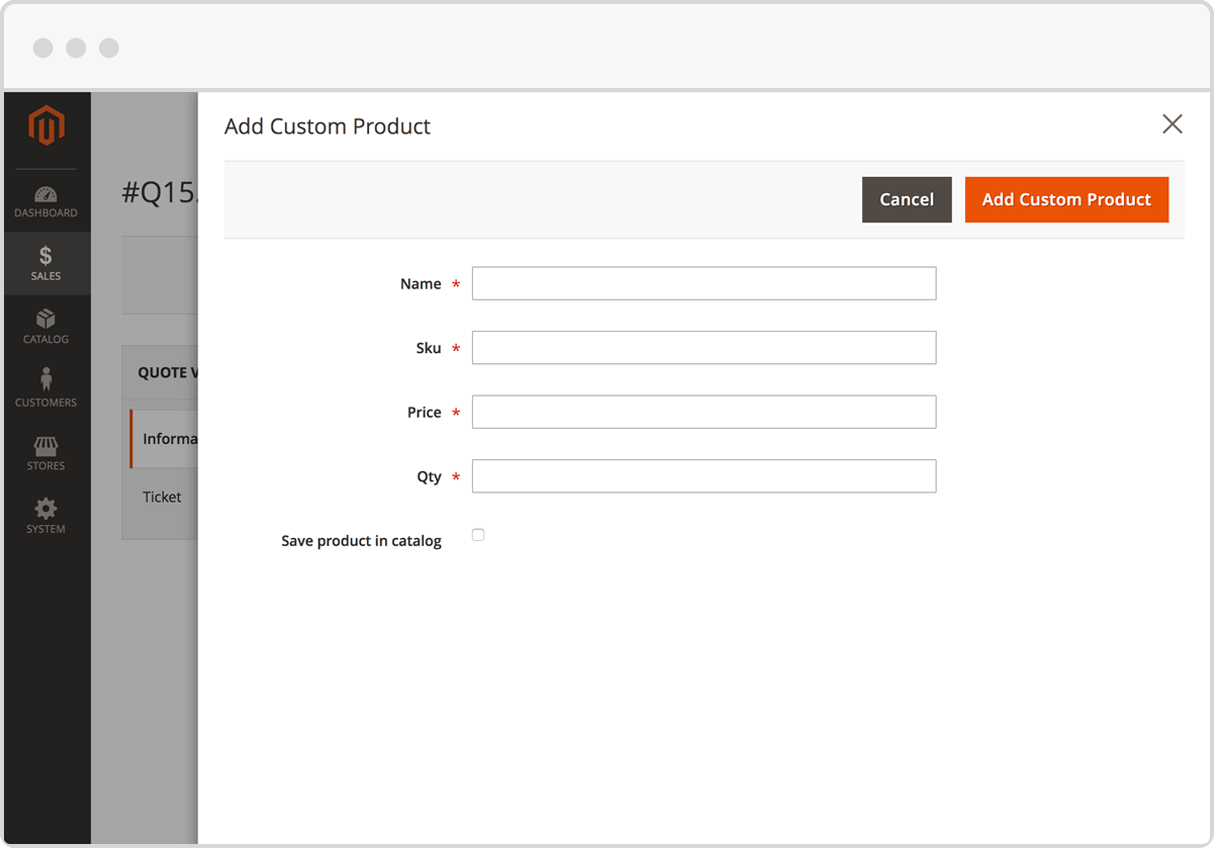 Create Products on the Fly
Quote items on-the-fly via the Magento backend that are currently not in your catalog. The admin creating the quote is offered the option to add a custom product to the new quotation, and also to include said product in your store's catalog. This offers complete quote product flexibility and will be very useful for store owners who offer custom request products, or products which are included in catalog on demand.
CRM - Customer quotation ticket & Admin quotation ticket & Assign admin users to tickets
Communicate with your prospect customers after they have placed their quote requests, and send direct messages from your admin view to their frontend perspective. Create a great relationship, and communicate with your customers to gain the information you require to make the perfect proposal.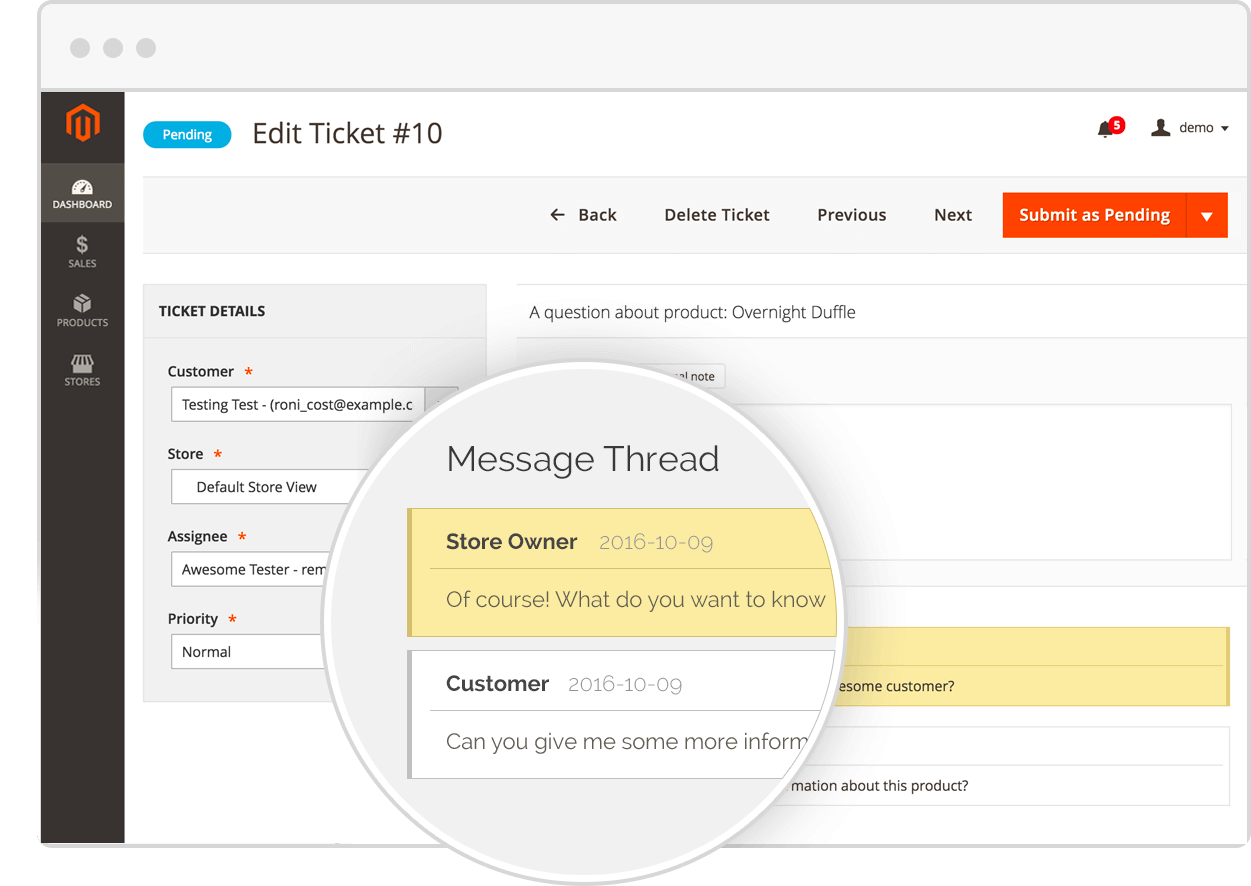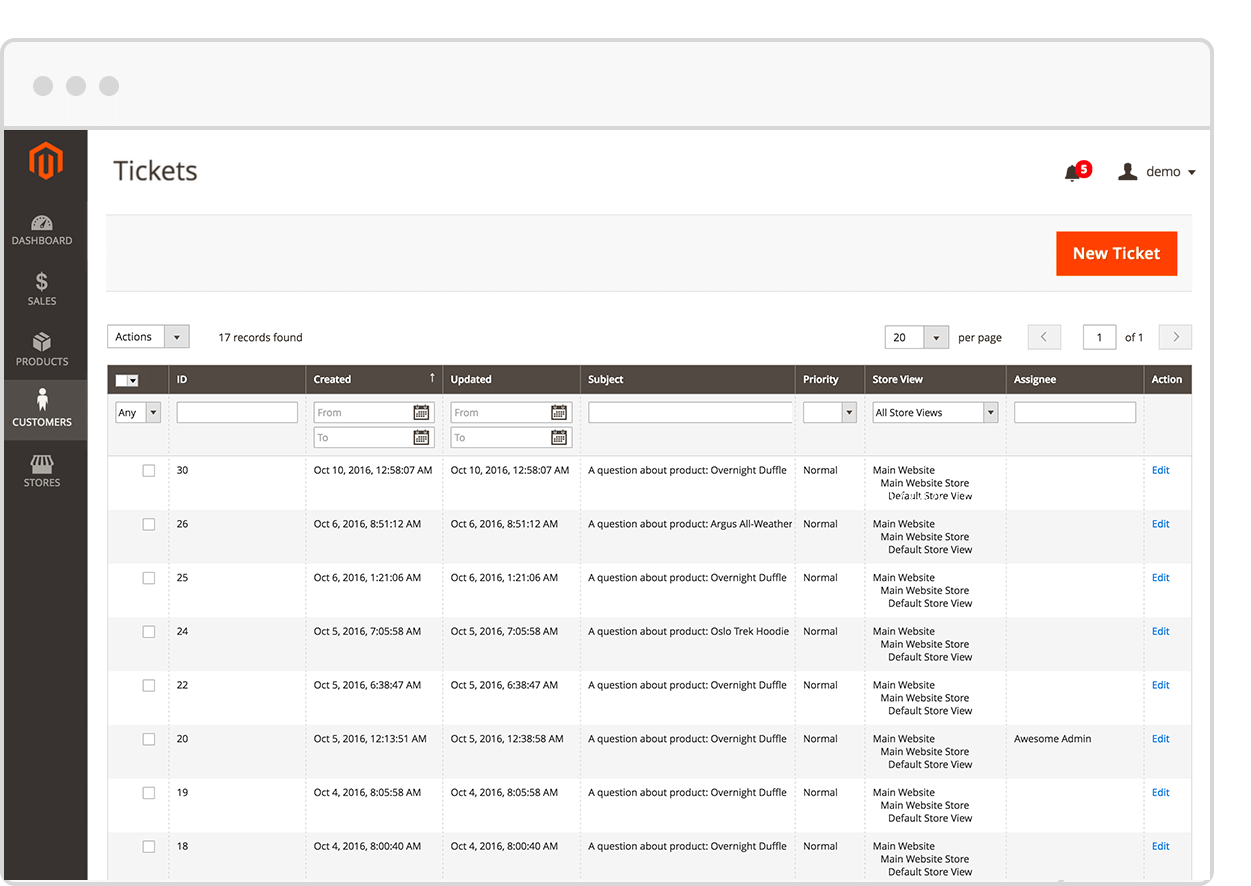 Backend management grid
In the backend of the admin panel ticket grid, the administrator may adjust every ticket independently. This flexibility results in pleasant user usability, as well as administrator ease of use. For example, if the administrator wishes to inform or consult others, he or she can easily assign a coworker to the ticket in the ticket grid, or communicate with coworker(s) through internal notes feature. The ticket Grid provides an overview of tickets by customer name, status, subject, and priority.
Add custom shipping prices
Allow your customers to submit a quote request, which you can send back to them including a custom shipping price. Customers can approve the quote including the custom shipping price and continue completing the order via the regular Magento checkout. Or alternatively the store-owner can complete the purchase via the Magento backend and create the invoice for the customer.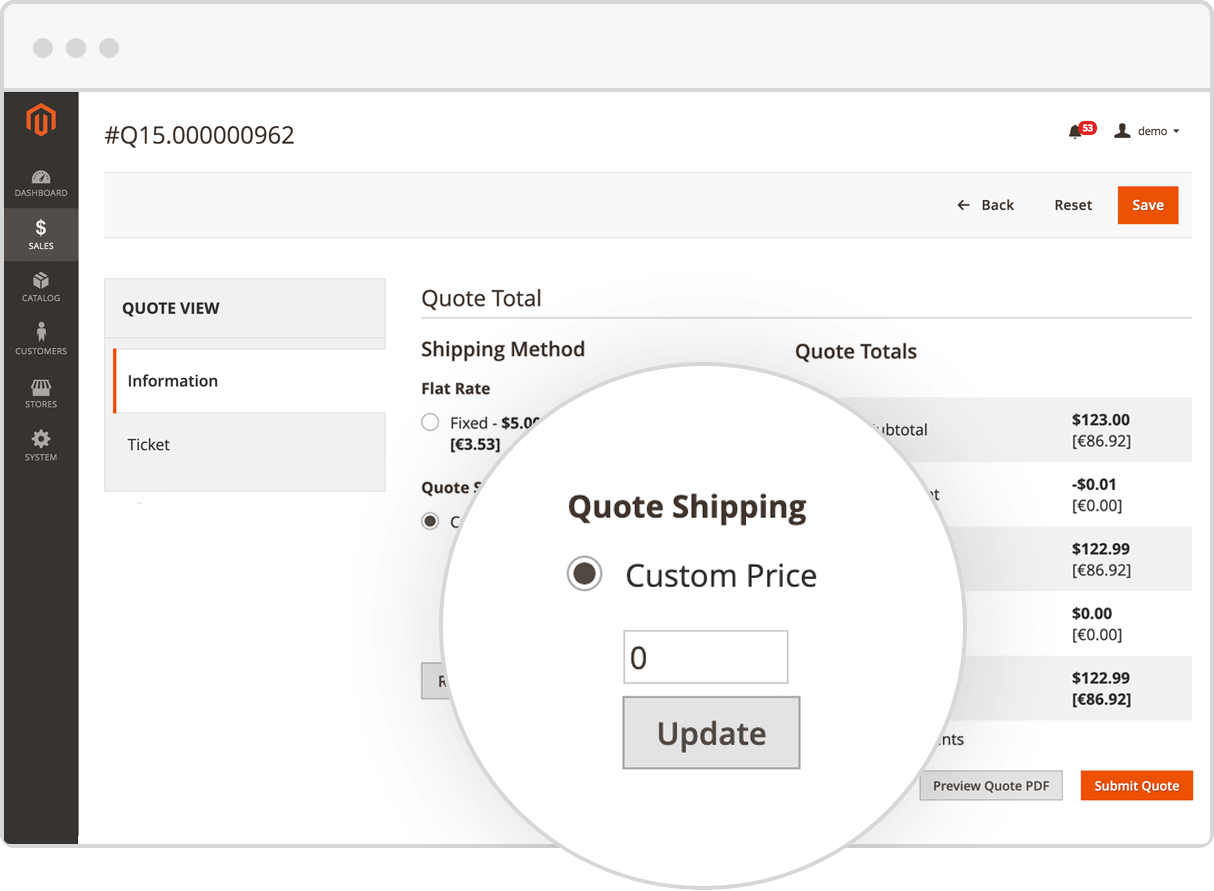 Frequently Asked Questions
Your question not listed below? Please contact us if you have any further enquiries.
Licence
It is strongly recommended to let the module be installed by a technical implementer if you do not have the necessary knowledge of Magento modules installations. Visit our documentation center and download our InstallationGuide to see what's involved.
You can quickly and easily renew your license at € 200 off the normal pricing within one year of your original license expiration date. More information.
Nope, if your license expires your extension will still work, however you will no longer have access to updates and support and can no longer request extra development domains.
Yes. Cart2Quote Licenses are permanent and will never expire. There is no annual fee. Your License key is tied to your Magento backend URL. View our Cart2Quote licensing information page, for more information.
Yes, the source code of Cart2Quote is not encrypted and does not require the installation of decryption software on your server.
However, Cart2Quote contains a few obfuscated files which contain our license and edition logic. The obfuscating of these files makes it possible to protect our software and at the same time allow our customers to upgrade editions without installing new software or changing code.
If you require a version of Cart2Quote without any obfuscation, you can opt for the Enterprise edition and select the development version. The development version option is only available when ordering the one-off priced software.
Please note: It is not allowed to resell any part of the Cart2Quote software without ordering a license for every Magento installation or server that uses Cart2Quote.
An original equipment manufacturer, or OEM, manufactures products or components that are purchased by another company and retailed under that purchasing company's brand name. OEM refers to the company that originally manufactured the product.
The Cart2Quote OEM product is developed for companies that have included Cart2Quote's (functionality) in their product. Selling it white label to their customers in the form of, i.e., a Magento template that can be purchased via their website or a diversity of marketplaces.
The minimum expected sales quantity is 10 license per year. We do have other alternatives available for companies not expecting this sales volume. (See Partners)
We're so confident you will love our products, we offer a 30 day, money back guarantee if the extension fails to work and we are unable to fix it. If you required an installation and/or custom work, we will deduct this amount from your refund. Learn more about our refund policy.
Subscription
Any subscription plan renews automatically. If you don't want to be billed, cancel your subscription until the expiration date otherwise the system will bill your card or Paypal account automatically.
There are both monthly and annual types available on Cart2Quote. You are free to select the type you wish. If you want to pay month by month you have to select one of the monthly plans because for annual plans you need to pay upfront.
You can change your current plan and upgrade at any time to any plan you prefer. For more details and instructions
Yes, our plans can be cancelled on a month by month basis when this option is selected or on a yearly basis when billed annually. Contact us when you want to cancel your subscription.
No, the exact same software will be delivered to you. Both versions are self-hosted. However if you require the open source version of Cart2Quote, you will have to select the one-off pricing as this version is not available as a subscription service.
Update & Upgrade
If you are using the free version and decide to upgrade and enable more features of Cart2Quote, you do not have to reinstall the module. Just enter a license key into the backend. The same is true for other upgrades from one version to another. Visit the upgrade page for more information.
Depending on the Cart2Quote edition you purchased you have received a certain amount of months of free updates. View the comparison table above to see the applicable period of free updates for your edition.
If your trial ends before you purchased a paid product, Cart2Quote will degrade to the free version. Your data will remain intact, and your customers can still submit new requests, and you can continue processing new price requests via the admin panel. Only the paid features will stop working.
Compatibility
Cart2Quote will be out-of-the-box compatible for Magento themes based on the RWD and base themes. For all other themes some adjustments may be needed to make it fully compatible. For more information on installing Cart2Quote, please read through our documentation. If you would need help to make Cart2Quote compatible with your theme, we suggest you purchase a Theme Integration.
Yes, we can, and we would be happy to. We love to make Cart2Quote a perfect fit for your business. We have multiple user cases of customizations and testimonials of happy customers that trusted us to customize their Magento web shop. Visit our Magento customizations page for more information.
Cart2Quote currently runs on more than 6000 different store configurations and limiting possible module conflicts is important to us.
However, the most common compatibility issues at the moment are modules relating to SMTP modifications and Ajax extensions.
For a more store specific analysis of possible module conflicts, you can send us a list of installed modules. Please copy this list of installed modules in your store from
System>Configuration>Advanced>Advanced
Payment
When you purchase an extension with a one-off price, you can use it perpetually. Your license also comes with a free update subscription and Cart2Quote support for a limited period. After the free update subscription period, you can choose to extend the update subscription for another year for a discounted price. If you chose not to extend your update cycle, the Cart2Quote software will still function without interruption.
When you subscribe to one of our plans with a month-to-month billing of an annual billing cycle, the software remains activated as long as the subscription is active. If the subscription is canceled the Cart2Quote subscription will be terminated at the end of the current billing cycle and your Paypal account or credit card will not be charged again. No credit is offered for canceling an account prior to the end of a billing cycle.
We accept Visa, Mastercard, and American Express through our online payment system (Paypal). If you would like to prepay with a bank transfer, you can select "Pay with an invoice" or pay with iDeal (Netherlands only). You can select these options during the checkout.
Features
We are dedicated to improving this quotation module every day. Our goal is unchanged: creating a complete Magento quotation module. We release a new version of Cart2Quote about every month. Visit our Release Notes for more information.
Not2Order is our Magento module that works seamless together with Cart2Quote. This module enables you to manage the visibility of order buttons and prices on a product per product basis and/or per customer group. Visit the Not2order product page.
Support
Our Corporate version comes with phone support. All other products come with online support. This helps us keep detailed records about your issue in one place. Nothing is lost in translation between advisors or if we need to escalate an issue to engineers.
We are excited about your interest in becoming a Cart2Quote reseller! Please have a look at our partner/reseller program for more information.
Manuals & Support
In the documentation below is detailed information on how to install and configure the module and how to use the Not2Order module.
Need more help?
Can't find what you're looking for? Save time by starting your support request online and we'll connect you to an expert.
Release Notes
Cart2Quote release notes provide information on the features and improvements in each release. This page describes both major, and minor (bugfix) Cart2Quote releases.
Select your version from the list below to see its related release notes.
Fixed:
Quote Product QTY Update
Fixed:
Quote Sequence & Quotation Cart Persistence
Fixed:
Cart2Quote EventName Converter & PHP Dependency Issue
Fixed:
PDF generation Issue
Added:
Small code improvements
Fixed:
Invalid template file on quote index
Fixed:
MiniQuote Success Message
Fixed:
Compilation and deployment issues
Fixed:
Update Miniquote QTY issue
Fixed:
Adding Product to Quote Issue (backend)
Fixed:
Preview quote not working when custom font file is used
Removed:
Null Safe Object Uses
Improved:
PHP8 compatibility
Other:
Replaced Match Functions With Case
Fixed:
An issue on installation when tables included a prefix in status.
Fixed:
An issue where Boolean was used as an array.
Fixed:
Get Shipping Methods And Rates Button would cause loading and rendering issues.
Improved:
Make private methods protected.
Improved:
Specified Cart2Quote templates for future scalability.
Improved:
Cart2Quote for php 8.2 and cleaned up old code.
Added:
Configuration for max products update
Fixed:
Fixed an issue where updating 15+ products in the quotation admin would crash the quotation
Fixed:
Multiple file upload not working in backend
Fixed:
Missing words in product remarks area
Fixed:
Billing address not showing on virtual product
Improved:
Quotation filter and processing time improvement
Other:
Replaced deprecated filter: Zend_Filter_LocalizedToNormalized
Added:
Magento 2.4.6 compatibility
Improved:
If quote admin exceeds 15 products - reload page to prevent crashing
Fixed:
Links leading to the old website
Fixed:
Missing words in product remarks area
Fixed:
A quotation request Issue: "No such entity with cartId"
Fixed:
Adding out of stock product in admin did not work when products checks were disabled.
Other:
Workaround: order & quote mirroring
Fixed:
A shipping address issue in quote 'get' api
Fixed:
A fault in potential system issue detection
Fixed:
An issue in the 'Create Order' process from quotations in the admin
Fixed:
An issue previewing quotation - WeeTax
Fixed:
Wrong dates were occassionally displayed on files
Fixed:
Pagination was not working on category page
Fixed:
Backward logic with getCurrentQuote
Fixed:
An issue when multiple files are being uploaded to quotation in the backend
Fixed:
js issue on checkout
Fixed:
Installation script not working on new Magento installations
Added:
Added compatibility for Magento 2.4.5-p1
Added:
Added PHP 8.1* compatibility
Fixed:
Fixed an issue where bundle product does not add to quote
Fixed:
Fixed an issue where new delivery addresses were not saved
Fixed:
Fixed an issue where deleted quotations would be reactivated through related order(s).
Fixed:
Fixed a compilation issues relating to PHP updates
Fixed:
Fixed an issue where the "Create Order" button would disappear when scrolling the 'add products' grid
Fixed:
Fixed an issue where the user couldn't add bundle products to quotation from admin
Added:
Added a 'created by' column for quotation
Added:
Added duplicate quotation for assigned customer
Added:
Added Fixed Product Tax calculation to quotation details in PDF
Improved:
Improved: translated Database scripts to xml
Improved:
Improved JavaScript functions for Magento 2.4.4
Added:
Improved quotation notice
Other:
Updated composer.json php requirement
Added:
PHP 8.1 compatibility
Added:
Magento 2.4.4 compatibility
Fixed:
Bundle product would not add to quote
Fixed:
Disabling guest checkout with checkout form enabled would break the form
Fixed:
New delivery address did not save
Fixed:
Custom price not working for API
Improved:
Item weight rounding and added weight unit
Added:
Added checkout button variable for quote proposal template
Fixed:
Disabling guest checkout with checkout form enabled breaks the form
Fixed:
Fixed translations not working for product attributes
Fixed:
Order Items Custom Pricing Issue
Added:
Added product weight row to quote details
Added:
Added route to set custom price
Fixed:
Qty rules were ignored on quote checkout
Fixed:
Cloned quote did not allow you to set expiration or reminder date
Fixed:
Product comments disappeared when converting quote to order
Fixed:
Wrong Quote Request Email Recipient
Improved:
Fixed customer could not be set on quote with API
Improved:
General improvements based on customer feedback
Other:
Fixed issue with add products button not loading on M2.4.4
Other:
Selecting different billing address would set "use same as shipping" to true
Other:
Fixed type return for releaser
Added:
Optional Discount to PDF
Added:
Bundled product backorder notice
Added:
Built checks for configuration values and Magento version
Fixed:
jquiry/ui deprecation warning and speed improvements
Fixed:
Billing address form not disabled when existing address is selected
Fixed:
Create/Modify quote API returned empty array
Fixed:
Customer group didn't get converted when placing order
Fixed:
Email variables were visible when no shipping data present
Fixed:
Quote request checkboxes were not working correctly
Fixed:
Quote status in admin quote view did not work for other languages
Fixed:
Overlapping quote action buttons
Fixed:
Quotation address update issue
Improved:
Dutch Translation
Improved:
Move to quote check on customer group
Improved:
Downloadable product button design
Improved:
Improve design when prices are set to show including and excluding tax
Improved:
Messages on the custom quote request form design
Fixed:
Wrong email handle name used for async sending
Added:
Config for reference field on quotation form
Added:
Config for quote remarks on quotation form
Added:
Customer group hide/display option for the miniquote icon
Added:
Missing translation functions for file upload feature
Added:
Quotation notice email for admin and salesrep
Added:
Reason for proposal rejection display area on the quote backend
Added:
Allowed file type configuration for backend file upload when frontend file upload is disabled
Fixed:
Billing address is not always saved & js error on M2.4.3
Fixed:
Disable guest request option not working
Fixed:
Enable Guest Request Issue issue in the quote request form
Fixed:
Checkmarks were not working on quotation form configuration
Fixed:
Order cancel wouldn't work when no quotation was attached
Fixed:
Fixed wrong price displayed for multi currency
Fixed:
Guest form popup when customer is logged in
Fixed:
Missing quotation button when product is out of stock and stock check is disabled
Fixed:
Tax display issue on pdf
Improved:
Allow quote item decimal in quantity
Improved:
Small proposal email template bugs and improvements
Improved:
Email receiver and template
Improved:
Made function isPhoneRequest protected to override it
Fixed:
Fixed typo in quote adjustment path
Fixed:
Magento bug which could only be used by Magento 2.4.* users
Fixed:
Salesrep dependency issue
Fixed:
Multiple issues when SalesRep module does not exist
Other:
Changed public const to const for releaser
Added:
Applied catalog price rule notice for tier item
Added:
Possible issues report
Fixed:
An unset field in form which broke the quotation/quote page
Fixed:
Cart2Quote_Quotation and Cart2Quote_AutoProposal config group overlap
Fixed:
Custom complex success message translation
Fixed:
Customer could not view self-uploaded files after requesting quote
Fixed:
Custom product is added multiple times on second submit
Fixed:
Don't update original quote when frontend quote changes visibility is disabled
Fixed:
Duplicate Billing Address issue
Fixed:
Duplicate quote button logic
Fixed:
Duplicate salesrep_user issue when quotation is duplicated
Fixed:
Fixed bundle products not being added to quote on 2.4.3
Fixed:
Fixed if cost row is not set in quotation admin the custom price will not update
Fixed:
Fixed pdf would break if product image uses gif
Fixed:
Fixed quote pdf doesn't download when it doesn't exist yet
Fixed:
Fixed special characters are shown incorrectly on pdf
Fixed:
Grand total including tax translation issue in the pdf printout
Fixed:
If coupon code already exists it doesn't add existing code
Fixed:
Missing 'valid until' date in quote proposal and quote follow-up email templates
Fixed:
Multishipping resets custom price
Fixed:
'Edit Sections' button functionality on quotation view in the backend
Fixed:
Preview Quote Template bug
Fixed:
Quote subtotal and coupon application issue when quotation is locked and fixed
Fixed:
Bug when updating items and quantities on Safari
Fixed:
Sticky actions bar overlapped configurable slide-out
Fixed:
Strict url requirement for custom request form
Fixed:
Typo in \Cart2Quote\Quotation\Model\Quote::recalculateQuoteAdjustmentTotal
Fixed:
Wrong grandtotal in quote history
Improved:
Subscription and license period relating to Lite Edition
Improved:
Configuration logic management
Improved:
Salesrep id getter and event parameter wording
Other:
Changed public constants to constant for releaser
Fixed:
Magento's PHP codesniffer breaking on the License module
Added:
Config for print quote button on quotation view page
Fixed:
Bundle customise option when quotation frontend disabled
Fixed:
Customer remarks were not saved
Fixed:
Missing discount option on shopping cart page when "Remove The Coupon Input Field For Quotations" was enabled
Fixed:
'Print Quote' button display issue on Configurable product pages
Fixed:
Incorrect config path for billing/shipping address grid
Fixed:
Uploaded files were not copied to duplicate quotation
Improved:
Added log to create quote and return true to ensure quote clear
Improved:
Reverted 'quote discount' to 'quote adjustment' and applied a few small improvements
Added:
New configuration routing
Added:
Save existing config values to new configuration path
Added:
Positive quote profit visibility option
Added:
Quote search grid cancel button and scrollable action
Fixed:
Admin notification new quotes available included quotes which were cloned
Fixed:
Billing address did not update from quote admin
Fixed:
Billing and Shipping always visible configuration
Fixed:
Could not disable quote discount on line item in e-mail
Fixed:
Captcha did not work on Magento 2.3
Fixed:
Percentage discount rounding issue
Fixed:
Save config was options disappeared when Cart2Quote was disabled
Fixed:
Guest request for existing customer was not working
Fixed:
Issue where quote product quantity check was triggered after adding product description
Fixed:
Item and quote GP calculation and currency label
Fixed:
Minimum quantity bug on quote request page
Fixed:
MiniQuote Configurable Product quantity
Fixed:
Missing product thumbnail in PDF
Fixed:
Missing success page tab title
Fixed:
PDF address detail variables when no address was configured
Fixed:
Set minimum quantity when lower quantity requested
Fixed:
Shipping method was gone after applying subtotal proposal
Fixed:
Url in success notifications
Fixed:
When disabling Cart2Quote, "Create Order" would not work
Improved:
Configuration layout
Improved:
Encryption now only happens for guest
Improved:
MinSaleQtyCheck variable default value
Improved:
Quote id is encrypted for checkout to prevent customer data leak
Improved:
Revert "Quote id is encrypted for checkout to prevent customer data leak"
Improved:
Revert "Revert "Quote id is encrypted for checkout to prevent customer data leak""
Removed:
Double negative profit config
Removed:
Quantity and discount both displayed 'excl tax' when enabled
Other:
Resolved unassigned quote template issue
Added:
Quotation items minimum salable quantity check and configuration
Fixed:
Currency switching and checkout totals issue
Fixed:
Guest request issue when quote request method was quick quote
Fixed:
Quote items and button were not working on custom e-mail templates
Fixed:
Google recaptcha user login Magento 2.4
Fixed:
Login button displayed login form popup
Fixed:
Print quote button overlap issue
Fixed:
Quote checkout and item currency conversion issues
Improved:
Quote discount now always shows correct discount depending on subtotal incl or excl tax
Improved:
Quote products currency value including and exluding tax.
Improved:
Captcha for magento 2.3
Improved:
Dutch translation
Added:
Added quote reference to database and checkout form
Added:
Added reference to admin quote detail page
Added:
Added backend file upload attach to proposal option
Fixed:
Custom product is added after backend error on first try
Fixed:
Optional products bug
Fixed:
Proposal rejected email rendering issue
Fixed:
Quote remarks retrieval issue
Fixed:
Quote request did not include quote items
Fixed:
Tier item subtotal 0 amount in frontend
Fixed:
Unable to view quotes with bundle in frontend My Quotes
Fixed:
Missing dependency $entityPool
Improved:
Improved quote discount and custom price for certain tax configurations
Improved:
Recent quotes are visible on customer dashboard even if frontend visibility is disabled
Improved:
Removed "the" from quote request email string
Improved:
Show correct tax in e-mail and quote history
Other:
Made constructor in Model\Quote\ConfigProvider.php backward compatible
Other:
Fixed incorrect namespace in Cart2Quote\Quotation\Controller\Quote\File.php
Other:
Updated: README.md
Added:
Added config for items grid
Added:
Added recent quotes to the customer dashboard
Added:
Backend file upload feature
Added:
Proposal status can be changed now
Added:
Dutch empty shopping cart quotation text translation
Added:
Quote product backorder label
Added:
Product catalog visibility check
Added:
Backend quote history grid
Added:
Quote item backorder check
Added:
Tax visibility option for PDF
Added:
Theme integration manual link to documentation links
Fixed:
"shipping method" and "placed on" string translation
Fixed:
'valid until' translation
Fixed:
Compilation and quote form rendering issue
Fixed:
Coupon amount issue when 0
Fixed:
Edit Sections doesn't work when click on text
Fixed:
Error The "array" class doesn't exist and the namespace must be specified.
Fixed:
File upload checkboxes broken
Fixed:
Fixed switching quote currency only worked on the first quote item
Fixed:
If magetrend is disabled the quote attachments do not work
Fixed:
If you add tier quantity to product in frontend it added to other products as well