Customer Quotations Extension for Magento - Features
Cart2Quote is a combination of Magento extensions enabling and managing
Customer Quotations or RFQ's from the Magento front-end and back-end.
Place Quotations buttons
Enable "add to quote" buttons per specific product
Enable "add to quote" buttons per storeview or website
Enable quotations and quote buttons for specific customer groups
Specify the visibility of buttons in the Magento grid/list view
Configure the visibility of the add to quote buttons on the product page
Cart2Quote supports all Magento producttypes (checkout the demostore)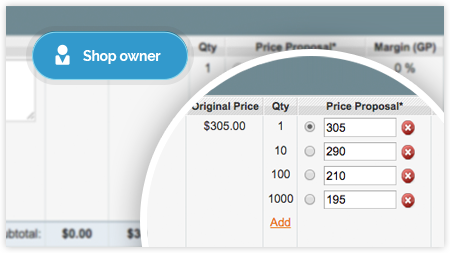 Create Proposals via your Backend
Enter custom prices per product
Add custom shipping prices
Upload additional attachments with a proposal email
Enter shopowner comments per product
Show realtime profit/reduction margins
Add or delete products from the quote request
Add or delete tier quantities for a specific product
Convert a quote request to an order using the admin panel
Configure the visibility of the add to quote buttons on the product page
Auto send proposals based on Magento tier prices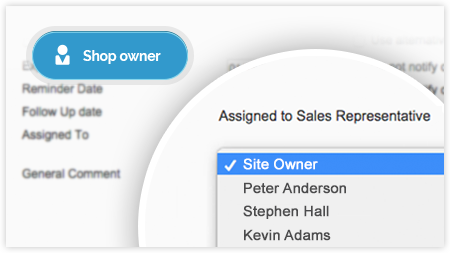 Assign your sales representatives
Assign sales people to quotation requests manualy or automatically
Add internal comments to a quote request
Assign super admins with extra rights
Show all quotation requests per customer in a grid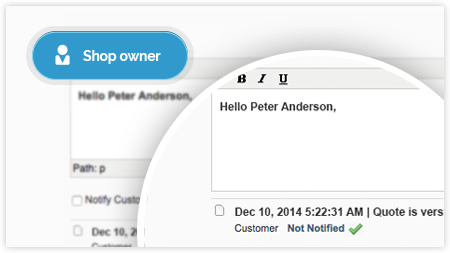 Customer Relationship Management (CRM)
Send PDF proposals by email
Send reminders and expiry emails
Manually send messages from within Magento (CRM)
Create and update custom message templates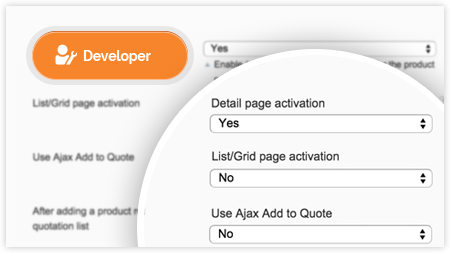 Customize your Cart and Checkout + Not2Order
Set alternative checkout url for thirdparty checkouts
Disable order references in the cart
Enable Ajax add to quote popup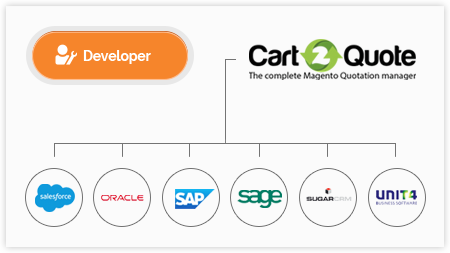 Connect with your favorite CRM & ERP systems
Back to top
Trigger your visitors with Quote Request buttons

Cart2Quote can place CTA's at all relevant positions in your stores - whether at the category, product or shopping cart page. You can enable and disable this functionality on a product and store level.

Integrated in the Magento Customer Dashboard

Cart2Quote is well integrated into Magento. It facilitates the customer dashboard to let your customers either reject, edit or accept your quotations.

Intelligent quotation form

Cart2Quote uses a smart and compact form placed directly under the quotation list. This zero-step approach ensures an optimal conversion.

Full backend functionality to edit quotes and more

With Cart2Quote you can create a Quotation from the backend. Edit Quotations in the backend and convert Quotations to orders using the backend.

Back-end quotation Grid

Cart2Quote adds a new grid overview under the sales category. Placing the business name of the requester central and showing the status of all requests in an easy overview.

Fast check-out using the standard Magento checkout

No need for an optimized check-out. Cart2Quote brings all customer and order data automatically to the Magento check-out process, completing the quote to an order in seconds.

Professional PDF price proposals

In many cases, it takes minutes to create a professional looking price proposal. With Cart2Quote you can generate a price proposal and send it to your customer in mere seconds.

"Unlike other CRM solutions, Cart2Quote manages all Customer Quote Requests and communication from within Magento, fully embedded."
Back to top
About magento
"Magento is an open source based ecommerce web application that was launched on March 31, 2008. It was developed by Varien (now Magento Inc) with help from the programmers within the open source community but is owned solely by Magento Inc.. Magento was built using the Zend Framework. It uses the Entity-attribute-value (EAV) database model to store data. The Magento Community Edition is the only free version of Magento available. All other versions of Magento are not free.
Varien, the company owning Magento, formerly worked with osCommerce. They originally planned to fork osCommerce but later decided to rewrite it as Magento. Magento officially started development in early 2007. Seven months later, on August 31, 2007, the first public beta version was released.
On May 30, 2010, Magento mobile was released; it allows store owners to create native mobile storefront apps.
In September 2010, Magento launched Magento Mobile, an extension platform used to build native applications for iOS.
In February of 2011, Ebay announced it had made an investment in Magento in 2010, worth a 49% ownership share of the company.
As of June 6, 2011 Ebay owns 100% of Magento. Ebay announced that Magento would join Ebay's new X.Commerce initiative. Magento's CEO and co-founder Roy Rubin wrote on the Magento blog stating that "Magento will continue to operate out of Los Angeles, with Yoav Kutner and me as its leaders."
Visit Magentocommerce.com